15 results - showing 1 - 10  
Tool Blog
Chris   December 15, 2015  
0
2
Milwaukee One-Key is a new feature that Milwaukee announced back in September that allows One-Key enabled tools to communicate wirelessly with smartphones running the One-Key App. While the App was released in September, since no One-Key enabled tools were available, it was only really useful for tool inventory management. That is all about to change February 2016 when the first One-Key enabled tools with Tool Control will hit store shelves. These first One-Key Tool Control tools will be a selection of M18 Fuel Drills and Impacts.
Tool Blog
Chris   October 08, 2014  
0
1
Everyone wants to know when Milwaukee will be releasing their new M18 XC5.0 Extended Capacity Battery Pack and you should be happy to learn that they will be coming out next month (November 2014). This means there will be plenty of time for you to add them to your Christmas list. You might be surprised to learn that the new Milwaukee 5.0 Ah battery got more than just boost in capacity and runtime, but I will get to that later.
News
Chris   April 04, 2013  
0
1
Milwaukee Tool is continuing to expand their M12 Line of cordless tools with the introduction of the new 2416-22XC M12 Fuel 5/8-inch SDS-Plus Rotary Hammer. As noted, the new tool carries Milwaukee's "Fuel" branding, which means it also features their new Powerstate brushless motor technology.
Tool-Rank
Chris   March 05, 2013  
0
1
Contest Information
Contest Ends
March 25, 2013
Milwaukee is currently running a giveaway on their Facebook page where you can win a pair of their Redlithium batteries. They will be giving away a grand total of $5000 worth of batteries that will go to a number of lucky winners. And because we are awesome, Milwaukee has also given Tool-Rank readers a second chance at winning a set.
News
Chris   December 03, 2012  
1
1
We all hate using the standard squeeze-grip style caulking gun - especially if the weather is cold and you can't get your goop to flow - but we don't really want to spend a fortune on getting a powered unit either. Thanks to Milwaukee we now have a third option with their new M12 ultra compact cordless caulk and adhesive.
News
Chris   November 08, 2012  
0
0
12-volt tools are quickly becoming just as powerful as the 18v tools of just a couple of years ago and might soon eliminate the need for the extra voltage. Just as 12v tools are replacing the need for 18v tools, it looks like Milwaukee could be set on making 4v tools the new compact king, and their new M4 screwdriver is just the start.
News
Chris   November 05, 2012  
0
2
Milwaukee first made their new brushless M12 Fuel line of drills and impacts known during their press event way back in June. They then gave us the clue about the winter release date back in August. Now, with winter just around the corner, they have released the specs, and they have us wondering if you really need 18v tools anymore.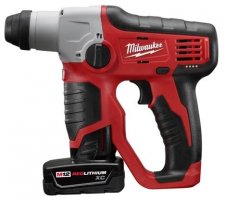 News
Chris   September 06, 2012  
0
1
When I am reading about new tools I always think about how these tools will help me on the job. When I see the new sub-compact 2412-20 M12 SDS-Plus Rotary Hammer I think of all the times I had to run hundreds of feet of extension cords so I could drill holes to set door thresholds at hotel jobs. The 2412-20 seems perfectly suited for these types of jobs.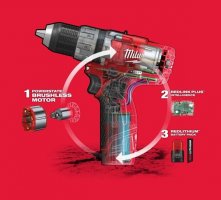 News
Chris   August 07, 2012  
0
1
Along with Milwaukee's announcement of new higher capacity batteries comes their announcement of new Brushless M12 cordless drivers. In my opinion Milwaukee has been the leader in 12-volt ultra compact tools, and they have shown this again by leading the pack with Brushless ultra compact drivers.
News
Chris   August 07, 2012  
0
0
All of the signs pointed to the inevitable release of next generation of higher capacity batteries, and Milwaukee has made the announcement official today. Not only is the M18 line of tools getting a boost, but so does the M12 ultra compact class of tools.
15 results - showing 1 - 10