3 results - showing 1 - 3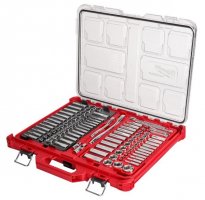 Tool Blog
Chris April 27, 2020
0
4
You will soon be able to purchase Milwaukee Tool Ratchet and Socket sets that use the Milwaukee PACKOUT Low-Profile Organizers as their storage cases. The new PACKOUT sets include both SAE and Metric options. The PACKOUT Organizers used in these sets are compatible with the complete Milwaukee PACKOUT Modular Storage System, which has grown to include 20 modular storage solutions.
News
Chris April 07, 2014
0
3
A tipster sent in news that, though unpublished, Snap-On is selling a new 3/8-inch gearless ratchet known has the FZERO. The name likely comes from the fact that gearless ratchets are touted as having zero backlash.
News
Chris August 19, 2013
0
2
3D printing technology sure has come a long way in these last few years. Something that wasn't even well known, is now not only known, but is at the point where it can actually be used to make production items. The NRG3 Roller Socket Wrench was prototyped using 3D Metal Printing and they plan on using 3D technology in production units.
3 results - showing 1 - 3