6 results - showing 1 - 6  
Editorial
Chris   June 24, 2011  
0
1
In an effort to better organize my home workspace I decided that I needed to get some of my non-work tools out of boxes/bags and into places where I could more easily access the ones I use most. My solution was simple, and probably the same solution that many of you use, pegboard. A full sheet of pegboard is cheap, and with the right hooks and attachments, you can organize a good portion of your tools. Next all I needed was pegboard hooks. Lucky for me, my Father had a box full of them that he let me dig...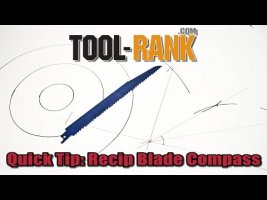 Editorial
Chris   July 16, 2014  
1
0
Have you ever found the need to draw a perfect circle but you don't have a compass (drafting) or anything round to trace? Well, if you have a reciprocating saw blade laying around, you can use it to make near perfect circles in a wide range of sizes.
Editorial
Gary   March 07, 2013  
0
3
As a finish carpenter, I have an apron pocket assigned for a small combination square. (In addition to whatever else finds its way in that pocket) But I notice that after tightening the ruler in the base over and over again, inevitably the day comes when the ruler no longer tightens in the base and it's time for a new combo square. So it was that as I was digging around in my tool box, I found a couple of loose steel rulers. Now I'm not one to throw something out if it has a purpose, but what can...
Editorial
Chris   January 29, 2010  
0
0
How many times have you been in search of a replacement bit tip and had to search through the bottom of your toolbag, sifting through the saw dust in order to find one? Unless you get yourself organized, you could waist a good 5 – 10 minutes out of your day.
Editorial
Chris   June 04, 2009  
0
0
When I say cheap and mean the best kind of cheap, FREE. If you are reading this, it is probably pretty safe for me to assume that you own a computer. If you have the same luck that I have with hard drives, it is also very likely you have a couple dead or retired ones around the house. Inside these hard drives are a couple very powerful neodymium magnets aka rare earth magnets. With these magnets you will be able to detect metal studs from behind drywall and other materials. You can also use these magnets...
Editorial
Chris   April 09, 2009  
0
0
Here is a quick tip on how I keep my cords and air hoses tied up after I am finished with them. I take a piece of flexible rope and tie it around my extension cord or air hose using a clove hitch knot, I then tie a knot on both ends of the rope to keep the rope from fraying. The idea is that the rope will always be on the cord, so it is there when you need it. The reason I use a clove hitch knot is because it will stay...
6 results - showing 1 - 6