5 results - showing 1 - 5  
News
Chris   August 08, 2013  
0
1
Many home woodworkers dream of having a full-size cabinet saw in their garage converted workshop, but how many garages are wired to meet the 230V demand that most cabinet saws require? Enter the new Powermatic PM1000, a true cabinet-saw that requires only a standard 115V outlet.
Manufacturer News
Chris   June 08, 2012  
1
0
The countdown has come to an end and the announcement we have all be waiting for has arrived and passed. Most of us had assumed Powermatic's Big new tool would be a table saw and some even guessed it would have flesh detecting technology, but it turns out Powermatic's new tool is actually an enormous lathe.
Manufacturer News
Chris   June 04, 2012  
0
0
I am not sure exactly what this means, but Powermatic has a large graphic that is taking center stage on their home page and it is counting down to this Friday morning (6/8/2012). Just about everything Powermatic makes is big in reality, so is the news big because the product is BIG, or is the news big because the news is BIG? Either way, I guess we will find out this Friday. Feel free to post your guesses or dreams of what is coming in the comments below. The obvious guess is a new...
Around The Web
Chris   February 13, 2012  
0
0
Contest Information
Contest Ends
February 29, 2012
Want to do some woodworking and look cool during the process? The new Onyx limited edition series of tools from Powermatic can help you out with both. The black and gold color scheme on the Onyx tools has us thinking Powermatic should just make it their default color choice. Most of the time limited edition tools will end up costing you big, but you have a chance to win a Powermatic 14-inch Bandsaw and a PM2800 Drill Press valued at $2,804.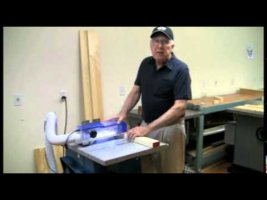 News
Chris   February 06, 2011  
1
0
ProTool Reviews and The WoodWhisperer both have some great articles about SawStop, a new rival flesh detecting table saw safety system, and what the Consumer Product Safety Commission can do to help lesson table saw injuries. It turns out that SawStop as a brand was not the first choice for Stephen Gass, the inventor of the table saw braking system. He originally went directly to table saw manufacturers to try and get them to license his SawStop system from them; but his licensing efforts failed. The SawStop technology was too expensive, heavy, and ruined saws blades after...
5 results - showing 1 - 5