4 results - showing 1 - 4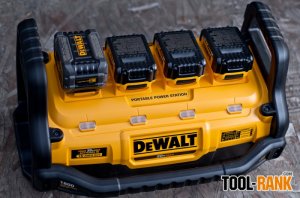 Reviews
Chris February 06, 2017
0
10
It is easier than ever to find a cordless replacement for any number of once corded-only power tools. Yet, the fact still remains that there are certain tools that are not yet cordless or may never be cordless. When you need to use these tools in a place without an outlet nearby, your only option is a noisy gas generator—which is useless indoors. DeWalt's answer to this problem is their new DCB1800 1800-Watt Portable Power Station and Parallel Battery Charger.
Tool Blog
Shane September 11, 2015
0
4
We've all been there, finding ourselves working in an area without electricity with a truck full of equipment that needs electrical outlets. And it isn't just the power tools, nowadays, we need to keep our cell phones charged and quite possibly a laptop or tablet on standby, to check plans and specifications as well as trying to avoid missing out on more business opportunities. Generac's new XD5000E 5000 watt portable diesel generator is their solution to reliable portable electricity.
Reviews
Gary September 10, 2015
1
4
The reason for buying a portable generator may vary from person to person—one might want to power up tools on a remote jobsite, another to use for camping and recreation, or still another for backup electricity during a power outage—but if your reason for choosing a portable generator is portability then you'll want a generator that's truly portable.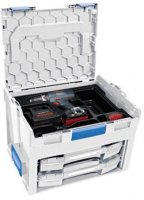 News
Chris June 17, 2011
0
0
Sortimo has announced their new LS-Boxx, which is identical in size to their medium L-Boxx's, but instead has an opening in the front for removable trays. These trays, called i-Boxx's comes in two sizes and come with insert boxes and feature a transparent lid. The top portion of the LS-Boxx opens just like a regular L-Boxx and can house small tools such as cordless drills. The advantage of this new box is its ability to carry a tool in the top, and all the accessories needed in the tray's below. Sortimo talks about different tray options...
4 results - showing 1 - 4