17 results - showing 1 - 10  
Tool Blog
Chris   August 28, 2014  
0
1
DeWalt has come out with a new line of air tools for professionals in the automotive industry. DeWalt says they have been engineered to meet the high-end performance standards demanded by tradesmen and they include features that ensure they can take as much as they can give.
Hot Deals
Chris   May 20, 2014  
0
0
If you are subscribed to the HomeDepot PRO newsletter you are probably used to them sending you a lot a mail with hardly any value in them; but every once in a great while they have a coupon or sale in them that makes it all worth it. Yesterday's email was one of the rare gems, announcing an online sale on select Milwaukee Tools, Ridgid tools, Pnuematic compressors and nailers, and more. And this isn't just a regular sale, the saving on some of the items is big. An 18-Volt Milwaukee Hammer...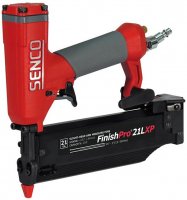 Tool Blog
Chris   April 21, 2014  
0
1
When 23-gauge is too small and 18-gauge is too big, Senco says their 21-gauge nailer is "just right". But unlike most pin nailers, the new Senco FinishPro 21LXP uses nails that have a slight/medium head. Senco says it delivers the holding power of a brad nail with a much smaller hole.
News
Chris   April 26, 2013  
0
1
If you want to nail into concrete using pneumatics, usually you need a special high-pressure compressor to go along with a high-pressure nailer. Senco's new SCP40XP concrete nailer lets you use your regular air compressor yet drives up to 1-1/2-inch nails into concrete.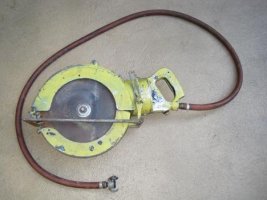 News
Chris   July 27, 2012  
0
1
Antique tool collectors might be interested in this rare WW2 era pneumatic (worm drive?) Skil Saw. Some of you older tool users may have heard folklore about such a tool, and maybe a rare few have even seen this mystical tool in person.
Reviews
Gary   July 24, 2012  
0
8
Can an 18 gauge nail gun with a name unfamiliar to most carpenters compare to the guns made by the big name tool makers?—Well, this carpenter emphatically says Yes! In fact the Uffy finish nailer I recently used surpasses my expectations in nail guns, and over the years I've used many brands.
News
Chris   May 15, 2012  
1
0
Two years ago I asked, Where Are The Aluminum Air Compressors? I wrote the article after draining my air compressor, seeing the rusty water come out, and wondering why they didn't make tanks out of aluminum. An aluminum tank would solve the rust issue and make the tool a bit lighter as well. In the article I mention that after a search I found Maxus aluminum air compressors, but as of now it looks like they are no longer made. Jump to today and I have found a new maker of aluminum air compressors. ...
News
Chris   May 11, 2012  
1
0
One way to accent upholstery is to add rows of decorative nails around the edges or on the seams. These decorative nails are a nice way to add a bit of contrast, but it takes a long time to hammer in each nail by hand. Normally I would not be writing about upholstery nailers, but Uffy Tools has come out with a pretty cool new Pneumatic Decorative Upholstery Nailer (TH-T-DECO1 ) that accepts loose decorative nails and uses a mini tornado inside the tool to automatically align each nail into the magazine. Watch the video below...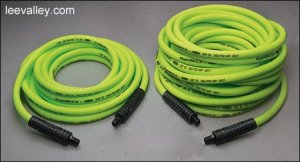 Hot Deals
Chris   April 25, 2012  
0
0
The Flexzilla air hose is the latest in super flexible all-weather pneumatic air hoses. The Flexzilla hose is advertised as being able to lay flat right after uncoil and remain flexible even when it has been completely frozen. For a limited time LeeValley has the 3/8" diameter air hoses at 25-foot and 50-foot lengths for only $18.50 and $29.95 respectively; this is a saving of between $10 and $20, depending on the store. This is a special offer from LeeValley and will only be available while supplies last. Flexzilla Air Hoses - LeeValley ...
News
Chris   April 23, 2012  
0
0
The JobMax is a tool that Ridgid makes that features a corded or cordless body that can accept interchangeable heads. The System has been out for a while now, with improvements and attachments coming along the way. Now it appears the next step for the JobMax system is to go pneumatic.
17 results - showing 1 - 10