3 results - showing 1 - 3
Hot Deals
Chris January 31, 2014
0
1
Continuing on my quest to post more hot deals on tools and accessories, today we have the DeWalt DW616PK Fixed Base & Plunge Base Router Kit for the low price of $159.20. This is $20 cheaper than Amazon's regular price and much lower than some competing stores.
News
Chris October 08, 2012
0
0
More than seven years ago Bosch released their Colt Palm Router; and who knew that all these years later it would be the router of choice by many tradesmen for light duty work. And while the Colt was good for light duty work, people always wanted more out if it. Now with the introduction of the PR011 Plunge Base, Bosch as given its tool all kinds of new possibilities.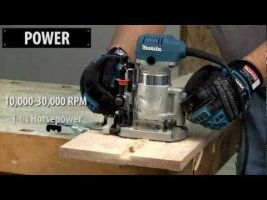 Manufacturer News
Chris March 26, 2012
1
0
We have seen in these last few years that people are moving away from bulky tools that do way more than they need from them, and instead are purchasing tools that better match their needs. In response to this, Makita has announced a new 1-1/4 HP Compact Router with multiple base options that should be able to handle most of your jobsite routing needs.
3 results - showing 1 - 3