3 results - showing 1 - 3  
Tool Blog
Chris   March 31, 2015  
0
1
We might not all be professional plumbers, but that doesn't mean we cant do our own plumbing  maintenance and repairs around the house. To help the beginner get started, BernzOmatic has put together a grab-and-go kit with the basic tools needed to start sweating copper pipe.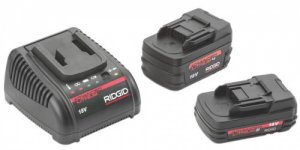 News
Chris   April 16, 2013  
0
1
Ridgid has announced their next generation of 18-volt lithium-ion cordless tool batteries in 2.0Ah and 4.0Ah, and promise improved performance, longer runs times and other advancements over previous batteries.
News
Chris   January 04, 2013  
0
1
Ridgid has introduced the 238-P Powered Soil Pipe Cutter as a way to make cutting soil pipe easier in tight or hard to reach spaces where a typical soil pipe cutter would be difficult or impossible to use.
3 results - showing 1 - 3