11 results - showing 1 - 10
Tool Blog
Chris May 13, 2014
0
3
Milwaukee has announced that they will be coming out with their own line of locking pliers and clamps. But what sets them apart from all the other locking pliers that are already available is a new feature called Torque Lock.
Tool Blog
Chris April 17, 2014
1
1
Klein Tools is expanding their insulated hand tools line with new electrician's tools with "slimmer, sleeker profiles", which have been certified by VDE in Germany.  These "made in the USA" tools feature a three-part insulation and have been tested to 10,000V and rated at 1,000V.
Tool Blog
Chris March 31, 2014
0
1
Oftentimes it is a good idea to have a specific tool for each task, but then again, sometimes it is nice to have tools that can do more than just one thing. With the promise of being able to handle the bulk of your wire prep needs, I think Klein's new J2068C All-Purpose Pliers fall into the latter category.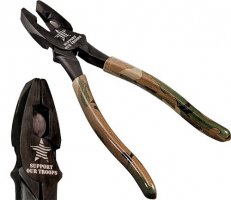 News
Chris May 24, 2013
0
1
Klein has announced that in addition to donating $25,000 in 2013 to Operation Homefront, an organization that helps our Military and their families, they are also coming out with a new limited edition Camouflaged 2000 Series High-Leverage Side-Cutting Pliers.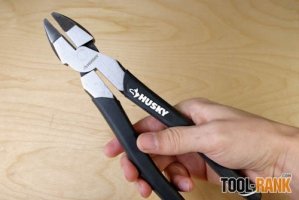 Reviews
Chris November 18, 2012
0
26
Husky has recently come out with a whole new line of pliers and wrenches that are designed to be affordable and come with a lifetime guarantee. They sent over a few of their new tools so we could take a look and let you know what we think about them. So lets jump right in.
Manufacturer News
Chris June 18, 2012
0
0
You have probably seen those Channellock pliers with the red and blue handles on them; well, those tools are part of Channellock's Code Blue line. They never seemed to be advertised as much as their classic line, and I guess that was because the handle grips were not made here in the USA. That was, until now.
News
Chris January 11, 2012
0
0
Just last week I had to go inside the door panel on my Ford Explorer to try and figure out why the lock mechanism was no longer working and boy is it tight in there. Even though I could see where I needed to work with a flashlight, when it came to doing the actual work, my hand always seemed to cast a shadow. What I needed was hand tools with built in lights.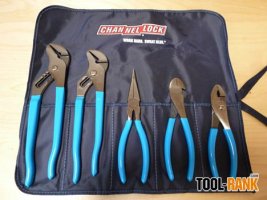 Reviews
Chris July 27, 2011
0
0
Channellock has put together a great general purpose tool roll set, and in my opinion it is the best tool set they offer. The Tool Roll No. 3 Gift Set includes the: 430 tongue & groove plier, 420 tongue & groove plier, 337 cutting plier, 3017 long nose plier, 526 slip joint plier. These 5 tools are a great addition to a DIYer's small collection of tools, and can be used for many of the most common DIY tasks. This is not some cheap tool set either, and should last a lifetime. Channellock sent me this...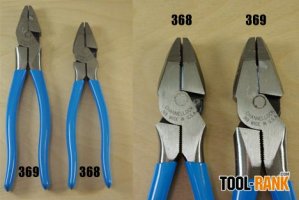 Reviews
Chris April 15, 2011
0
0
BrandChannellock Model #368 Buy Amazon Not too long ago I review the ChannelLock 9.5" 369 Lineman Pliers, but today I have the new smaller 368 8" version. As I mentioned in my previous review of the 369 Pliers, I am not a professional electrician, and any electrical work that I do is on a small scale. It is because my electrical work is DIY that I prefer the smaller ChannelLock 368's.I simply do not need the added cutting power that the 9.5" version offers. Sacrificing a...
News
Chris March 17, 2011
0
1
It is no surprise that many, if not most of the tools sold in stores today are knockoffs that are made in China. But it might surprise you to learn that for just a few dollars more you can get the originals that all of these cheap tools are copying. Original Estwing 16oz Hammer - $20 (made in USA) - Amazon ($27)Name brand Chinese copy - $17 Original Shark Corp. 10-inch Prybar - $17 (made in Japan) - AmazonName brand Chinese copy - $15 Spring Tools Hammer-less Nailsets - $10...
11 results - showing 1 - 10