8 results - showing 1 - 8  
Videos
Chris   January 28, 2014  
1
0
Something we learn as a carpenter, or maybe more so as a woodworker, is that we can never have too many clamps. Building up a collection of clamps is usually something that is done over many years, which helps spread out the costs. But if you need clamps now and don't have a bunch of money, there is another option—make your own.
News
Chris   July 25, 2013  
1
1
I have always looked at the Festool MFT (Multi-Function Table) as great little work table, but not practical for jobsite use. I just never liked the idea of having to carry it around on the jobsite along with all of my other tools. But Timothy Wilmots' modified MFTC (Multi-Function Tool Cart) looks like an ideal way to transport both the MFT and your tools.
Tool Blog
Chris   May 23, 2013  
0
1
Less than a year ago SketchUp left the Google family and joined the Trimble family. I am sure like most of you, I expected some improvements to come from this deal. After all, why buy something like SketchUp, if you are just going to keep it the same? With SketchUp 2013 we get to see what Trimble has done with their baby.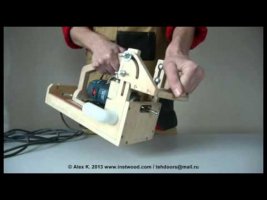 Cool Tools
Chris   March 28, 2013  
2
0
I think we can all pretty much agree that the Festool Domino mortiser is one cool machine. We might not all need one, but we can admire the engineering and the capabilities of the tool. So how much more impressed are we that a Russian carpenter made a similar functioning machine out of some basic shop tools.
News
Chris   December 04, 2012  
1
0
Every year as a child my brother and I were sent an advent calendar from our Grandparents so that would could countdown the days to Christmas. I am sure that many of you shared a similar experience and enjoyed counting down the days. But now you are older and opening little windows to look at funny pictures just isn't enough anymore. So let the kids have the funny calendar while you enjoy marking the days with your favorite beverage..
Cool Tools
Chris   May 21, 2012  
2
0
I was going to take a lazy day today, because it is my birthday, and not post an article, but I came across these videos over the weekend of Matthias over at WoodGears building a cool new router copy contraption and thought I would share them. His latest machine accepts a small trim router and allows the user to use a follower to duplicate an object into wood. In his first example Matthias was able to copy a wrench and get some pretty good detail. If you want more information, be sure to watch...
Gadgets
Chris   April 10, 2012  
0
1
You show up to work and start building, but little did you know that the day before there were people working behind the scenes changing the blueprints. Of course your work day started at 6AM, but you won't even know changes were made until the Suit calls you during your break just as he is starting his day.
News
Chris   January 13, 2012  
0
0
Rockler makes and sells tons of great products that make building stuff a whole lot easier, and the task they want to make easier this time, is building custom window shutters. Their new shutter jig solves the problem of positioning and spacing the shutters correctly, but Rockler also has an online plan wizard so that you can make sure each shutter fits onto each window.
8 results - showing 1 - 8