3 results - showing 1 - 3  
News
Chris   August 02, 2013  
0
2
DeWalt has announced their first entry into oscillating tools with their corded 3.0-amp model DWE315K. Some might DeWalt is late into the game, but others might say they have been taking their time to ensure they come out with the best product. The new DWE315K does seem to have some new features that are not being offered anywhere else.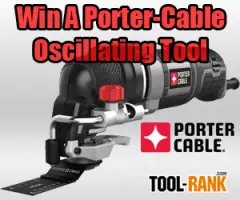 Tool-Rank
Chris   August 31, 2012  
0
1
Just a couple of days ago Porter-Cable announced their latest Oscillating Multi-Tool and now ToolRank has teamed up with them to give one of these bad boys away. This tool is barely hitting the store shelves and if you win you can be one of the first to own one.
News
Chris   August 30, 2012  
0
3
The field of oscillating tools continues to grown with another entry from Porter-Cable. They seem to be coming out with new models every year, and each time they add more features to make them even better. Let's take a look at what the new Porter-Cable PCE605K has to offer.
3 results - showing 1 - 3