4 results - showing 1 - 4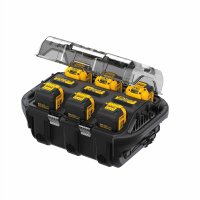 Tool Blog
Chris October 27, 2016
1
2
The decision for landscapers to switch out their outdoor power equipment from gas to cordless electric just got a bit easier thanks to the new 40V MAX 6-Pack Charging Station from DeWalt, which has been specifically made for DeWalt's line of cordless outdoor power equipment.
Tool Blog
Chris October 27, 2014
0
6
Recently, at the GIE Expo, DeWalt announced that in March of 2015 they will be coming out with a new line of 40V Max Outdoor Power Tools. The Line will consist of both 4.0Ah and 6.0Ah 40V Max Brushless String Trimmers, Brushless Blowers and they will even have a Hedge Trimmer available.
News
Chris May 02, 2013
0
1
It may not be very well known, but Makita as a worldwide company has a pretty extensive line of outdoor power equipment. Still, I was surprised to see a couple of cordless chainsaw SKU's make an appearance on their U.S. website.
News
Chris October 25, 2011
0
0
2x4 Basics, the company that brought us the simple 2x4 shelving system, is ready to prepare us for a season full of fireplace use. They make a number of systems that make use of easily accessible 2x4s, and one of those systems turns 2x4s into a handy firewood rack. Oddly enough, or maybe just showing smart business practices, the 2x4 Basics fireplace rack components appear to be the same as those used in their shelving system. The components are made of durable structural resin and come with a lifetime warranty. Assembly of the fireplace...
4 results - showing 1 - 4