Editorial
Chris   June 24, 2011  
0
1
In an effort to better organize my home workspace I decided that I needed to get some of my non-work tools out of boxes/bags and into places where I could more easily access the ones I use most. My solution was simple, and probably the same solution that many of you use, pegboard. A full sheet of pegboard is cheap, and with the right hooks and attachments, you can organize a good portion of your tools. Next all I needed was pegboard hooks. Lucky for me, my Father had a box full of them that he let me dig...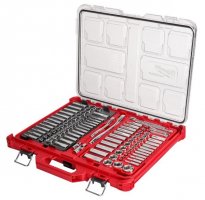 Tool Blog
Chris   April 27, 2020  
0
4
You will soon be able to purchase Milwaukee Tool Ratchet and Socket sets that use the Milwaukee PACKOUT Low-Profile Organizers as their storage cases. The new PACKOUT sets include both SAE and Metric options. The PACKOUT Organizers used in these sets are compatible with the complete Milwaukee PACKOUT Modular Storage System, which has grown to include 20 modular storage solutions.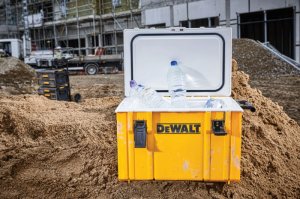 Tool Blog
Chris   June 29, 2018  
0
1
As I have mentioned numerous times in the past, I am a big fan of the modular DeWalt ToughSystem (be sure to read my review). It is what I use to organize and transport my tools to and from the jobsite. Even though I have my system configured just how I want it, I am always excited to see what new additions DeWalt makes to the modular system.  However, their latest additions are not really what I expected, a ToughSystem Ice-Cooler (DWST08404) and the new ToughSystem Waterseal Drawers (DWST08290).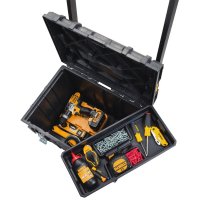 Tool Blog
Chris   December 06, 2016  
1
8
The DeWalt ToughSystem is by far the best solution I have come across to store and transport my tool to and from the jobsite, so I get excited when I hear about any new products in the ToughSystem line. In addition to a couple of new ToughSystem storage boxes, DeWalt finally has a solution to storing their boxes in a workshop.
Tool Blog
Chris   April 28, 2015  
0
4
Milwaukee is continuing to expand their new line of jobsite storage solutions with the introduction of a new transparent-lid Jobsite Organizer 48-22-8030. While it may look like other jobsite organizers on the market today, Milwaukee says theirs has been "meticulously designed" for "increased productivity", and provides 20% more capacity than the competition.
Reviews
Chris   October 03, 2014  
0
9
I am always looking for new ways to get my tools better organized, so when Sky Leap told me about their new Wrench and Socket Sorting trays, I jumped at the chance to give them a try. As part of their Get Sorted product line, their job is to improve productivity by sorting and organizing the tools in your drawer.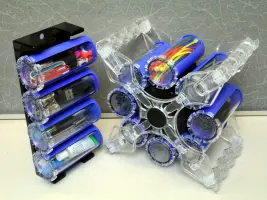 Tool Blog
Chris   August 20, 2014  
0
1
Portable organizational systems typically feature some type of box with a lid, they might even have removable cups that make using one item at a time easier for the user. But what if there was a better way to get organized? What if the cups themselves had lids, and instead of a large storage case, these cups attached to a framework to join with other cups? That is the idea behind the Twist Tubes, a new project up on Kickstarter.
Tool Blog
Chris   July 28, 2014  
0
1
.50 ammo cans are readily available at military surplus stores at mostly reasonable prices (from $5-$20), which is why they make good storage cans for various items. However, because of their large size they are not always great organizers for smaller items.  But one product aims to change your .50 cal organization problem.
Tool Blog
Chris   July 21, 2014  
0
1
How many different types of screws, nuts, bolts, washers, or anchors does a person need for any given task? If you were to look at the current selection of screw organizer boxes, 10 seems to be the magic number. But in reality, most tasks only require a few different fasters, the rest are just extra weight we have to carry around for a completely different task. This why I am happy to see that DeWalt has come out with a new Mid-Size Pro Organizer that is about half the size of other screw organizers.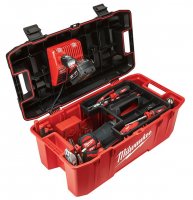 Tool Blog
Chris   May 05, 2014  
0
5
Many brands claim to make tool boxes that are tough enough to handle jobsite abuse, but how many of them can survive 1000 drops with a 50lb. load? Probably not many, but Milwaukee says their new 26" Jobsite Work Box 48-22-8020 can.