2 results - showing 1 - 2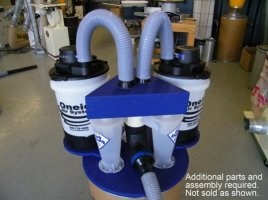 News
Chris January 06, 2012
0
2
Back in the late 90's you could not turn on the TV without seeing a commercial for a household vacuum that offered dual-cyclonic action. These commercials taught us that a vacuum with one cyclone was great, but one with dual cyclones is even better. The Dust Deputy videos have shown us how well their cyclone kits work on shop dust, so imagine what two more cyclones could do.
News
Chris February 15, 2010
0
0
You remember the Dust Deputy system I wrote about in the past; It is the cyclone that mounts onto a standard 5 gallon bucket, and acts as a pre-filter for your dust collection. Everywhere I look I see the Dust Deputy getting great reviews; people seem to love it. Now, not wanting to miss out on all the fun, Festool owners have come up all kinds of contraptions that allow them to mount their Deputies to their Festool Dust Extractors. One contraption consists of a cutting up a rather expensive Festool Systainer, mounting the Dust Deputy,...
2 results - showing 1 - 2