4 results - showing 1 - 4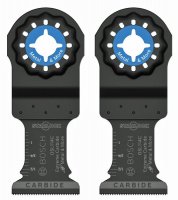 Tool Blog
Chris   January 28, 2016  
1
4
Bosch and Fein have jointly developed and patented the new Starlock interface system to be the new standard for connecting Oscillating Multi-Tool Accessories to the next generation of Oscillating Multi-Tools. But wasn't that the same goal of the now 5+ year-old Oscillating Interface System (OIS)?
News
Chris   May 10, 2012  
0
0
Since Bosch is the company that introduced us to the OIS (Oscillating Interface System) and has set the standard that most of the other brands are following, it seems fitting that they should be the ones to keep the flow of new blades and accessories coming. Titanium is the logical next step.
News
Chris   February 24, 2011  
0
1
We knew a corded version of Bosch oscillating multi-tool would be coming eventually, then we saw it a few months back when it hit the European store shelves. We had our hopes high thinking it would be coming soon to the US, then we found out from CopTool back in December that Home Depot had an online exclusive to sell the tool. That is right, you could only get the MX25E if you ordered it from HD online. But now finally the wait is over. Next month the MX25E will be available for everyone at tool dealers and home...
News
Chris   September 14, 2010  
0
0
Oscillation tools have quickly become the top tool on everybody's wish list. Because they are useful in so many applications, the tools are sought after by remodelers, electricians, plumbers, finish carpenters, and DIYer's. The oscillation tool market is still rapidly growing, but with each new tool, it becomes more and more fragmented. Why? Because every manufacture uses a different proprietary blade. In many cases, accessories from one brand will not work on the other brand. Bosch is taking the step that is needed to bring unity to a tool that really needs it by introducing the...
4 results - showing 1 - 4