11 results - showing 1 - 10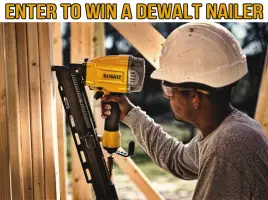 Tool-Rank
Chris   September 01, 2016  
0
1
Contest Information
Contest Ends
September 30, 2016
Tool-Rank is happy to be able to team up with DeWalt to giveaway away a brand new DeWalt Pneumatic Nailer. Best of all, the winner gets to choose which nailer they will receive. If you do a lot of general construction, the DeWalt 21° Plastic Collated Framing Nailer (DWF83PL) might be right for you. If you see a new roofing job in your future, the DeWalt Coil Roofing Nailer (DW45RN) might be your choice. Both Nailers are being provided by DeWalt, so it would be nice if you sent them a tweet or comment letting them know that you...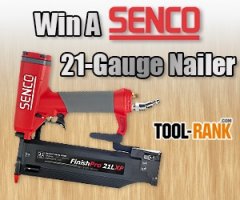 Tool-Rank
Chris   June 02, 2014  
1
1
Contest Information
Contest Ends
June 30, 2014
It's giveaway time. This month Tool-Rank has teamed up with Senco to giveaway a brand new product, their new 21-gauge FinishPro Nailer. When an 18-gauge nailer is too big, and a 23-gauge is too small, Senco says their new 21-gauge nailer is just right.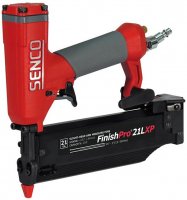 Tool Blog
Chris   April 21, 2014  
0
1
When 23-gauge is too small and 18-gauge is too big, Senco says their 21-gauge nailer is "just right". But unlike most pin nailers, the new Senco FinishPro 21LXP uses nails that have a slight/medium head. Senco says it delivers the holding power of a brad nail with a much smaller hole.
Tool Blog
Gary   July 02, 2012  
1
5
Bosch, a name synonymous with professional grade tools and accessories, has recently concluded their 2012 press event. There, in addition to seeing their latest products, I got to meet some of the folks responsible for getting these great products into the hands of great professionals--like you. Informing our group, president and CEO of Bosch Power Tools, Terry Horan, mentioned that while other tool companies tout innovation, Bosch has their focus on invention, and that tweaking an existing tool to make it their own is not the way things are done at Bosch. I was reminded that Bosch is...
News
Chris   May 11, 2012  
1
0
One way to accent upholstery is to add rows of decorative nails around the edges or on the seams. These decorative nails are a nice way to add a bit of contrast, but it takes a long time to hammer in each nail by hand. Normally I would not be writing about upholstery nailers, but Uffy Tools has come out with a pretty cool new Pneumatic Decorative Upholstery Nailer (TH-T-DECO1 ) that accepts loose decorative nails and uses a mini tornado inside the tool to automatically align each nail into the magazine. Watch the video below...
Around The Web
Chris   December 22, 2011  
0
0
Contest Information
Contest Ends
January 01, 2012
Running cords and air hoses all over a roof is not only a pain, but they also create a bunch of potential tripping hazards. So when Duo-Fast announced the first ever cordless fuel roofing nailer back in 2010, you could see that is was going to be a popular tool. In the price range of $500, the Duo-Fast cordless roofing nailer is not in everyone's budget, but if you fill out a short survey, you will be entered for a chance to win one. The giveaway ends on January 1st, so if you are...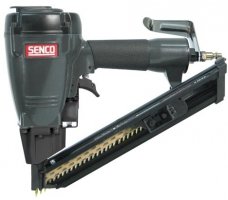 News
Chris   December 08, 2011  
0
2
Senco hasn't been on the radar much lately, though they made a pretty big splash with the introduction of their cordless Fusion line of nail guns a while back. However, it looks like Senco has several products they will be introducing in 2012, and they are starting with a couple of metal connector nailers.
News
Chris   October 11, 2011  
0
0
Senco took cordless nailers in a new direction when they introduced their Fusion line. Instead of using fuel cells or fly-wheels, Senco developed a recharging close-looped compressed nitrogen system that acts kind of like a mini air compressor built right into the gun. Senco initially released 15-gauge and 18-gauge versions of the nailer, and now they are expanding to include a 16-gauge straight nailer (F-16S), and a 16-gauge angled nailer F-16A. "We've had tremendous success converting pneumatic, battery, and gas-powered customers to the F-15 and the F-18," says Dave Moore, Senco's director of Fusion technology....
Manufacturer News
Chris   May 24, 2011  
0
0
It seems like more and more manufacturers are offering up longer warranties for their tools, and this is a move that I welcome. Duo-Fast is the latest to improve upon their warranty by giving their NEW 200-S and 200-C flooring staplers and nailers a 10-year warranty on all durable parts, and a 1-year warranty on parts that wear. Check the press release below for more details on the new warranties and the tools themselves.
News
Chris   May 06, 2011  
0
0
Why buy individually when you need bulk supplies? Duo-Fast agrees, and is now selling their cordless framing fuel cells in convenient 12-cell bulk packs. Now it is easy to head to the store and make just a single purchase instead of twelve. "The DUO-FAST fuel cells are based on proven ITW technology that has been around for 25 years," said Jacek Romanski, National Marketing Manager for DUO-FAST Construction. "We are providing contractors with the convenience of buying in bulk or one at a time if that's all they need." Even if...
11 results - showing 1 - 10