2 results - showing 1 - 2  
News
Chris   April 16, 2012  
2
0
Remember back in December I posted an article about rumors floating around the internet that Makita was coming out with an oscillation tool and that an 18-volt cordless model was also in the works? Well it turns out that the rumors were correct. Last week – while I was out sick – Makita posted a couple of videos on their Youtube channel that outed their new upcoming products.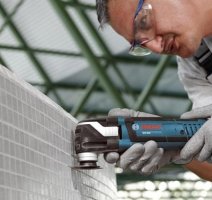 News
Chris   March 08, 2012  
1
4
I just received official word from Bosch that their new tool-less accessory change Multi-X oscillating tool is available now in stores. The new tool-less feature is something that we have all been waiting for, but the MX30E has other notable features that make the upgrade that much better. And at $199, the MX30E is still priced to match or beat the Fein MultiMaster.
2 results - showing 1 - 2