7 results - showing 1 - 7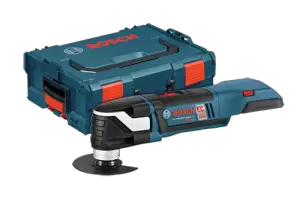 News
Chris   June 18, 2013  
0
1
We first saw the Bosch 18V Multi-X pop up on the German website back in March, and then Bosch confirmed that it would be coming to the US when it made an appearance on their US Facebook page in May. We have been anticipating the 18V Multi-X for a while now, and finally Bosch has given us a release date and a price to go with it.
News
Chris   May 10, 2013  
0
1
It looks like Bosch US will be coming out with an 18-volt version of their oscillating multi-tool. They gave us a sneak peek at what is to come on their Facebook page. From the photo all we can really see is that it runs on 18-volts and has the tool-less blade change feature that is found on their corded models, but I suspect it is pretty much the same as the cordless model that is already available in Europe. No word on pricing or availability.
Manufacturer News
Chris   March 15, 2013  
0
19
Literally, if you took all of the products Bosch Germany announced the other day and multiplied them by X, they would surly weigh a ton or more. There are so many tools I don't know where to start—how do tools that talk to your smart phone sound?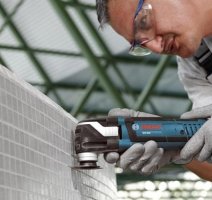 News
Chris   March 08, 2012  
1
4
I just received official word from Bosch that their new tool-less accessory change Multi-X oscillating tool is available now in stores. The new tool-less feature is something that we have all been waiting for, but the MX30E has other notable features that make the upgrade that much better. And at $199, the MX30E is still priced to match or beat the Fein MultiMaster.
News
Chris   November 17, 2011  
0
0
The Specialty Tools and Fasteners Distributors Association trade show has just come to a completion and Marc from Homefixated was there to cover all of the latest tools news and after show parties. Marc discovered some really cool tools while making his rounds, one of them being the tool-less blade change Bosch Multi-X that I wrote about a couple of months ago.
Reviews
Chris   September 08, 2011  
0
1
Bosch sent me out their Cordless PS50 Multi-X a few months back, as well as their Corded MX25E Multi-X. Since I got them both around the same time, and have used them both on the jobsite, I figured it would be best to do a single article that reviews and compares both models together. Oddly, Bosch's introduction into the oscillation tool market was done with the 10.8/12-volt cordless PS50, while other manufacturers and even their own tool subsidiary, Dremel, all introduced corded models. But even though the PS50 is a few years old, it is still...
News
Chris   September 01, 2011  
0
0
The one features that everyone is still waiting for on oscillating tools, is tools-less blade change. Fein, the originator of the tool has had this feature for a few years now, but at this point, Fein and Porter-Cable are the only ones with the tool-less blade change feature. Now it looks like Bosch Germany is releasing a tool-less oscillation tool of their very own. This is good news if the tool eventually makes its way to the US, but that can only happen if it doesn't violate any current patents. It likely doesn't violate any Fein...
7 results - showing 1 - 7