5 results - showing 1 - 5  
News
Chris   September 27, 2013  
0
2
Oscillating tools are getting better and cheaper as the years go by, as is evidence by the new Dremel MM30 Multi-Max, which delivers 14% more cutting speed over the previous model (MM20) and it's expected to retail for only $99.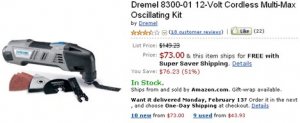 Hot Deals
Chris   February 10, 2012  
0
0
It is my opinion that if you are a professional carpenter, you should own both a corded and a cordless oscillation tool. The corded for when you need to do a lot of work, and a cordless for quick cuts and when you need to move around a lot. Unfortunately we cannot all afford to spend $300 to get both tools. Today only, Amazon has the cordless Dremel Multi-Max for only $73, and that is for a New kit. The kit includes a couple blades and a sanding pad to get you started, and also comes...
News
Chris   September 09, 2011  
0
0
Are you ready to throw out your hex-wrenches and go tool free? After I just finished my review of both Bosch multi-tools, Dremel comes out with news of their new tool-less MM40. This lack of a tool-less feature is one of complaints with the current Bosch offerings, but not because they require tools, only because they require tools that can easily be lost. The new MM40 from Dremel also gets a power boost up to 2.5 amps from 1.5amps. This puts the power rating up with the big boys, and offers a variable speed...
News
Chris   January 12, 2011  
0
0
Over the past couple of years we have seen many different oscillating tools come out from all of the major brands and even a few no-names, but there really hasn't been any innovation in the accessory department. Well that has all changed with the addition of the Multi-Flex from Dremel. The Multi-Flex looks a little weird, but if it works as advertised, it should bring a whole new level of of versatility to the tool. When the Multi-Flex is attached, it turns your oscillation tool into what is very similar in function to a scroll saw...
Reviews
Chris   November 23, 2008  
1
0
Introduction This is one tool that has had a lot of attention ever since it was announced. It seems people have been waiting for an alternative to the Fein MultiMaster for some time. Let me just say that there is a $300 price difference between the Fein MultiMaster and the Dremel Multi-Max, with the Dremel being the cheaper of the two. This is probably the reason people have such a huge interest. Being someone that has never used the MultiMaster, unfortunately I cannot give you a comparative review. You might want to...
5 results - showing 1 - 5