3 results - showing 1 - 3
News
Chris April 23, 2013
1
1
There is no doubt the original Skil77 is still a popular tool on the jobsite and it has seen few changes over the years. People seem to be happy with the design and always ask that it be left alone, but when pushed further they do wish it were lighter. The MAG77 was Skil's first lighter 77, but the MAG77LT goes even further.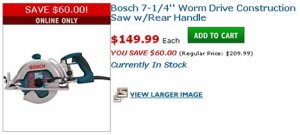 Hot Deals
Chris July 09, 2012
0
0
Many professionals consider the Bosch 1677M Worm Drive 7-1/4" Circular Saw to be a good upgrade from the classic Skil 77 Worm Drive and is comparable to the Skil Mag77. I should note that Skil is owned by Bosch Tools and that Bosch likely took some of the best of the Skill 77 to make the 1677M. You might have even noticed a couple of digits in the model number of the Bosch pay tribute to the classic Skil 77; the M also tells us that the saw features a light-weight magnesium foot plate. ...
Manufacturer News
Chris April 30, 2012
1
1
Skil introduced the Model 77 Skilsaw in 1937 and I imagine the saw played a large part in the rebuilding of America following the years after the Great Depression. 75 years later and the Skilsaw Model 77 is still around and we are going through what seems like another depression.
3 results - showing 1 - 3