3 results - showing 1 - 3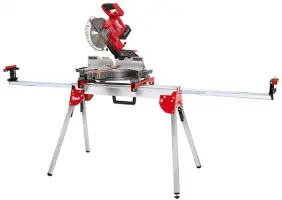 Tool Blog
Chris   May 15, 2017  
0
5
Milwaukee Tools has announced a new compact and lightweight miter saw stand that weighs only 31-pounds yet has a weight capacity of over 500-pounds. Its portability would pair nicely with the cordless 18V miter saw Milwaukee came out with last year.
Hot Deals
Chris   January 15, 2014  
0
1
If you are in the market for both a 12-inch miter saw and a miter saw stand, HomeDepot has quite the deal for you. For a limited time they have paired up the Ridgid MS1290LZA Sliding Compound Miter Saw w/ Laser and the AC9945 Miter Saw Utility Vehicle (MSUV) stand for only $499. The saw regularly sells for $499 and the MSUV normally sells for $199. A savings of $199 isn't bad.
News
Chris   November 10, 2010  
0
0
No, its not a 10-inch axial glide like many are hoping for, but it is new none the less. Or is it? It appears to be exactly the same as the previous 4410 except for the trigger handle. Instead of using the user rotatable handle, the 4310 uses a fixed handle. I was never a fan of the old handle anyways, so this is no loss. There might be some other minor changes, but basically it is the same saw. The 4310 will retail for less, so this new model appears to be a way for...
3 results - showing 1 - 3