11 results - showing 1 - 10  
Tool Blog
Gary   June 19, 2015  
1
7
Attending Milwaukee Tool Company's 2015 new product symposium gives me the responsibility of sharing with you some of Milwaukee's great new tools; but this year, more so than others, I have the greater (the bound) responsibility of not sharing some of what Milwaukee has for us in the near future. So, bound by contract until August 1st, about that I'll just say that Milwaukee Tool Company is still all about disruptive innovation. However, since the purpose of the event is to reveal (not conceal) their new tools, let me start by highlighting a few.
News
Gary   June 17, 2013  
4
8
sym•po•si•um [sim-poh-zee-uh m] n. a dynamic conference organized for the discussion of the latest innovative Milwaukee tools Before highlighting a sample of the many great tools revealed in this event held last week, it was helpful for me to first check my dictionary for the proper usage of the word; and though Webster might not have defined it exactly this way, having first-look at Milwaukee's latest innovative tools indeed made the Milwaukee tool new product symposium a dynamic conference. With expert product managers showcasing tools like the latest M18 FUEL cordless line; a M18 cordless LED...
News
Chris   April 19, 2013  
1
0
If you have been having a hard time finding the right angle grinder to suit your needs, I think your search just got a whole lot easier. Bosch has announced that they have overhauled their line of angle grinders are releasing a total of 11 new angle grinders that range in size and power to better match your needs.
Manufacturer News
Chris   March 15, 2013  
0
19
Literally, if you took all of the products Bosch Germany announced the other day and multiplied them by X, they would surly weigh a ton or more. There are so many tools I don't know where to start—how do tools that talk to your smart phone sound?
News
Chris   December 11, 2012  
1
0
Here at Tool-Rank it is not always about showcasing the best new tools to hit the market; we also like to show you how you can use the tools you already own in ways you might not have expected. There are always more than one way to solve a problem and when one man needed a lathe, he turned to his mini grinder.
News
Chris   February 08, 2012  
0
18
Today DeWalt showed us that there are not messing around and they are willing to compete with the other brands to win you over. They were a little behind and had to play catch up with their 18-volt slide-style battery tools known to us as 20V Max, but it looks like they have kept their engineers busy to keep the 20V Max selection growing fast. It was back in June 2011 when DeWalt first introduced their 20V Max tool line and now, only 8 months later, they are expanding on their line with 8 new 20V tools. ...
News
Chris   January 26, 2012  
0
2
Dust collection systems, attachments and accessories always seem to be popular at the World of Concrete trade show. With concrete being the main ingredient of the show, there is bound to be a fair amount of concrete dust, so it is only obvious to showcase tools that help clean it up. Bosch has come out with a number of new DC products that are sure to be welcomed by the people that would normally have to work in a cloud of dust.
News
Chris   February 27, 2011  
0
0
Porter-Cable has announced a 4-1/2" new angle grinder that they have designed to meet the needs of contractors and offer performance, ergonomics, durability, and ease of use.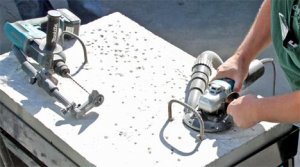 Manufacturer News
Chris   February 09, 2011  
0
0
Last week we saw a little about the latest dust extraction accessories Makita announced at WOC, and today I have some more information from a new press release to share. New Dustless Hammer Attachment (193472-7) The new dustless hammer attachment works with Makita SDS-PLUS corded and cordless rotary hammers. It features a 17" hose, telescoping spring-loaded barrel, depth stop, bit size adjustment knobs and a built-in ruler. World of Concrete attendees tried out Makita's new attachment and discovered several advantages versus competitive built-on systems, including better tool performance (competitor built-on vacuum motors...
Manufacturer News
Chris   February 02, 2011  
0
0
I usually don't have much coverage on concrete tools because I don't use them much in my line of work, and know very little about them. But for those of you in the concrete industry, or those just interested in tools news, you probably want to check out the official Makita World of Concrete press release that covers a few of their latest demolition and dust collection creations. La Mirada, CA Makita joined nearly 50,000 concrete contractors and dealers under brilliant sunny skies in Las Vegas for four days of hammering, surfacing and drilling...
11 results - showing 1 - 10