2 results - showing 1 - 2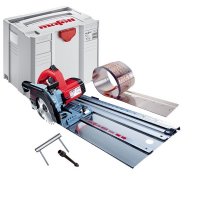 Tool Blog
Chris August 17, 2016
0
1
Top of the line—Made in Germany—Mafell tools are now available for sale at Toolnut, which I believe is only the second store to sell the brand in the US. If you thought Festool was expensive, you don't want to know how much Mafell tools cost; or maybe you do, when you see how cool some of them are.
Tool Blog
Chris November 25, 2013
1
1
When you need to make long straight cuts on the jobsite one of the best ways to do it is with a track saw (or plunge saw), but transporting and using long tracks on the jobsite is not always easy. So wouldn't it be great if you could roll up your track and store it in your tool case? While this does sound impossible, a company called Mafell makes a track saw system that does just that.
2 results - showing 1 - 2