17 results - showing 11 - 17  
Tool-Rank
Chris   March 05, 2013  
0
1
Contest Information
Contest Ends
March 25, 2013
Milwaukee is currently running a giveaway on their Facebook page where you can win a pair of their Redlithium batteries. They will be giving away a grand total of $5000 worth of batteries that will go to a number of lucky winners. And because we are awesome, Milwaukee has also given Tool-Rank readers a second chance at winning a set.
News
Chris   January 30, 2013  
0
1
Milwaukee Tool has been really targeting and capturing the speciality tool market with their cordless line over the last few years. While most of their speciality tools fall under their M12 line, the newly announced Milwaukee cordless grease gun will indeed be powered by 18-volts.
News
Chris   December 13, 2012  
0
1
We are all moving in the direction of using more cordless tools to get the job done, and more tools means more batteries. Milwaukee has announced a new charger that accepts 6 batteries at once and should make the task of charging a bit easier.
News
Chris   August 07, 2012  
0
0
All of the signs pointed to the inevitable release of next generation of higher capacity batteries, and Milwaukee has made the announcement official today. Not only is the M18 line of tools getting a boost, but so does the M12 ultra compact class of tools.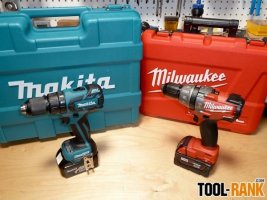 Reviews
Chris   June 26, 2012  
0
25
Brushless motors are the latest innovation to hit cordless power tools. In fact it is so new that there are few cordless tools that take advantage of the technology. In this article I am going to review two brushless drills that are available now, the 2604-22 Milwaukee Brushless Hammer Drill and the LXPH05 Makita Brushless Hammer Drill. Just for a stat comparison, I also threw in last years HDH181 Bosch Hammer Drill which is not brushless.
News
Chris   April 24, 2012  
0
1
If you have already purchased one of the new Milwaukee 18V Brushless Drills, or you are just looking for an upgrade, you won't have to wait very long until you can get your hand on the new Milwaukee M18 Fuel Brushless 1/4" Impact Driver. The Impacts are expected to hit store shelves in June, and specifications look very promising.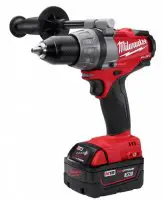 News
Chris   March 13, 2012  
0
1
The evolution of tool technology continues to impress, and Milwaukee is leading the charge with their latest line of cordless drills. Their new M18 FUEL line features the latest in drill technology, yet still manages to remain affordable to tradesman. So what makes the M18 FUEL line so special? How about better power, longer run times and long tool life?
17 results - showing 11 - 17