17 results - showing 1 - 10  
Tool Blog
Chris   January 30, 2015  
0
1
Milwaukee has announced that they are releasing a new cordless M18 Sawzall Reciprocating Saw (2621) with updated features and technology that will replace the aging model 2620. It has been a few years since the previous model came out, so the 2621 will bring the M18 Sawzall up to par with the rest of Milwaukee's cordless tool line. 
Tool Blog
Chris   January 12, 2015  
0
1
Sometimes charging multiple batteries can be a real pain in the butt, especially if you have both 18V and 12V batteries that need charging. Milwaukee's new (48-59-1807) M18 & M12 Rapid Charge Station not only promises to charge your batteries 40% faster, but it can charge up to three batteries at once.
Tool Blog
Chris   September 29, 2014  
0
6
In addition to the two Cordless LED lights that Milwaukee has already come out with, which I reviewed here, they will be coming out with a pair of new M12 and M18 Cordless LED Lanterns. While the previous LED lights were great task lights, the new LED Lanterns will probably be better area lights.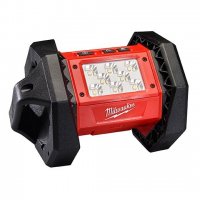 Reviews
Chris   June 09, 2014  
0
8
A while ago Milwaukee sent me out their M12 LED Stick Light and their M18 LED Flood Light to review, but to be honest, after much testing I couldn't find the words to express how much I love these two light. While I wanted to share a review for these two excellent lights, I just kept putting it off. Well, the wait is finally over; I still might not be able to express my adoration for the Milwaukee cordless LED work lights, but here it goes.
Tool Blog
Chris   January 17, 2014  
0
2
Milwaukee Tool is expanding their M18 Lithium-ion system even further with the introduction of their new M18 Cordless Compact Blower. Delivering 100 CFM and 160 RPM with a variable speed trigger and three speeds, Milwaukee says the 0884-20 is the most powerful compact cordless blower in its class. Though that shouldn't be too difficult because the class is pretty small.
Tool-Rank
Chris   January 01, 2014  
0
1
Contest Information
Contest Ends
January 31, 2014
I am happy to announce that Tool-Rank has teamed up with Milwaukee Tool to kick off the New Year with giveaway of their soon-to-be-released M18 Jobsite Radio/Charger (2792-20). That's right folks; you can win this radio before it is even available in stores.
Tool Blog
Chris   December 01, 2013  
1
3
Milwaukee has announced what they are calling "the most advanced radio of its kind", and from the list of features the (2792-20) M18 Jobsite Radio/Charger has, it would be hard to argue with them.
Manufacturer News
Chris   October 04, 2013  
0
2
Milwaukee Tools is set to release a total of six new M18 Compact Drills and Drivers over the next few months that will replace existing models. The new models include two Drills (2606-22CT, 2607-22), two Impact Drivers (2657-22CT, 2656-20), and Two Impact Wrenches (2658-22, 2659-22). All six boast improvements to ergonomics and overall performance.
Manufacturer News
Chris   September 24, 2013  
0
3
If you have been impatiently waiting for Milwaukee to release their 2626-22 M18 Cordless Oscillating Multi-Tool to use alongside your other Milwaukee cordless tools, you won't have to wait much longer—like maybe only a few more days. Along with a freshly delivered press release (below) as evidence, ToolBarn.com has them listed as shipping October 1st.
News
Gary   June 17, 2013  
4
8
sym•po•si•um [sim-poh-zee-uh m] n. a dynamic conference organized for the discussion of the latest innovative Milwaukee tools Before highlighting a sample of the many great tools revealed in this event held last week, it was helpful for me to first check my dictionary for the proper usage of the word; and though Webster might not have defined it exactly this way, having first-look at Milwaukee's latest innovative tools indeed made the Milwaukee tool new product symposium a dynamic conference. With expert product managers showcasing tools like the latest M18 FUEL cordless line; a M18 cordless LED...
17 results - showing 1 - 10