18 results - showing 1 - 10  
Tool Blog
Chris   February 16, 2015  
0
1
Milwaukee has multi-bay chargers for their M18 batteries and they just recently came out with a new multi-bay charger that handles both M18 and M12 Milwaukee batteries. Coming this March, Milwaukee Tool will be releasing a new Four Bay Sequential Charger (48-59-1204) for their M12 lithium-ion batteries.
Tool Blog
Chris   January 12, 2015  
0
1
Sometimes charging multiple batteries can be a real pain in the butt, especially if you have both 18V and 12V batteries that need charging. Milwaukee's new (48-59-1807) M18 & M12 Rapid Charge Station not only promises to charge your batteries 40% faster, but it can charge up to three batteries at once.
Tool Blog
Chris   December 05, 2014  
0
2
Sometimes it is nice to have some music to get you through a long day on the jobsite, but the last thing you want to do is lug around a large radio. Enter Milwaukee's new 2592-20 M12 Wireless Speaker, their newest gadget that streams music directly from your phone using Bluetooth technology.
Tool Blog
Chris   September 29, 2014  
0
6
In addition to the two Cordless LED lights that Milwaukee has already come out with, which I reviewed here, they will be coming out with a pair of new M12 and M18 Cordless LED Lanterns. While the previous LED lights were great task lights, the new LED Lanterns will probably be better area lights.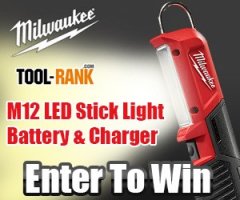 Tool-Rank
Chris   August 01, 2014  
0
1
Contest Information
Contest Ends
August 31, 2014
If you have read my Milwaukee M12 LED Stick Light Review you would know that I am a huge fan of the cordless LED light. So when I had an opening for a giveaway I knew I had to try and team up with Milwaukee to give one of them away. Milwaukee Tool happily agreed to my request and also decided to throw in a battery and a charger.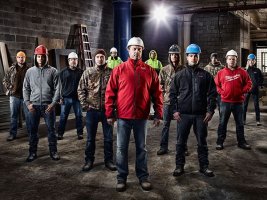 News
Chris   July 02, 2014  
0
1
It may be hard to believe, but Milwaukee is in their fifth season of making their M12 Heated Gear. When they come out later this year, the lineup will include more color and camouflaged jacket/hoodie choices, a new jacket design, and even a new 3-in-1 jacket style.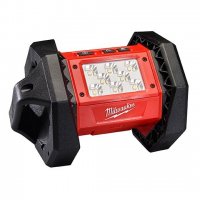 Reviews
Chris   June 09, 2014  
0
8
A while ago Milwaukee sent me out their M12 LED Stick Light and their M18 LED Flood Light to review, but to be honest, after much testing I couldn't find the words to express how much I love these two light. While I wanted to share a review for these two excellent lights, I just kept putting it off. Well, the wait is finally over; I still might not be able to express my adoration for the Milwaukee cordless LED work lights, but here it goes.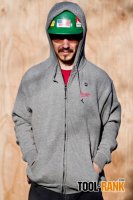 Reviews
Chris   March 19, 2014  
0
8
When users told Milwaukee they didn't like putting their nice heated jackets through jobsite abuse, Milwaukee's answer was to come out with a heated hoodie. In this review we take a closer look at the less formal, less costly, but still stylish Milwaukee M12 Heated Hoodie.
Hot Deals
Chris   October 01, 2013  
0
1
HomeDepot.com has a pretty sweet deal on the Milwaukee M12 3/8 in. Drill/Radio Combo kit. What was normally $199 has been marked down to $149 for the week. Taking a quick look at other online stores finds the same kit for $189 or higher. What makes the deal even better is what is included with the kit. At $149 you might expect something bare-bones or with only one battery, but on top of the Drill and Radio, this kit actually comes with two batteries, a charger, and a contractor bag. Get the deal (online only)...
News
Chris   July 29, 2013  
1
7
During their media event back in June, Milwaukee announced that they would be expanding their heated gear line with new M12 Heated Hoodies, M12 Heated hand Warmers, and finally a M12 heated Jacket for Women. And while these do not officially go on sale until August, you can reserve yours now with a pre-order.
18 results - showing 1 - 10