7 results - showing 1 - 7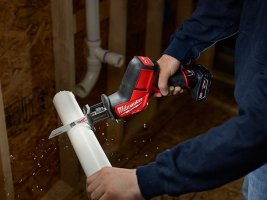 Tool Blog
Chris March 20, 2014
0
1
Yesterday on their social media pages Milwaukee teased us with news that a new M12 Fuel tool would be announced today. If you were one of those that guessed it would be a new Hackzall, you were right. Milwaukee's portable 12-volt saw will now be part of the brushless family.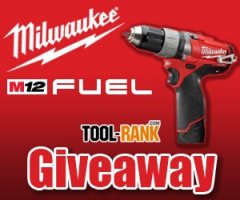 Tool-Rank
Chris July 09, 2013
0
1
Contest Information
Contest Ends
August 09, 2013
Do you know what time it is? It's giveaway time. And since we haven't done a Milwaukee giveaway in a while, and because they have been releasing a lot of really nice products lately, we decided to team up with them for this giveaway. What we have to offer is one of their new M12 Fuel Brushless Drills.
News
Gary June 17, 2013
4
8
sym•po•si•um [sim-poh-zee-uh m] n. a dynamic conference organized for the discussion of the latest innovative Milwaukee tools Before highlighting a sample of the many great tools revealed in this event held last week, it was helpful for me to first check my dictionary for the proper usage of the word; and though Webster might not have defined it exactly this way, having first-look at Milwaukee's latest innovative tools indeed made the Milwaukee tool new product symposium a dynamic conference. With expert product managers showcasing tools like the latest M18 FUEL cordless line; a M18 cordless LED...
News
Chris April 04, 2013
0
1
Milwaukee Tool is continuing to expand their M12 Line of cordless tools with the introduction of the new 2416-22XC M12 Fuel 5/8-inch SDS-Plus Rotary Hammer. As noted, the new tool carries Milwaukee's "Fuel" branding, which means it also features their new Powerstate brushless motor technology.
News
Chris January 08, 2013
0
1
Milwaukee announced on their Facebook page that products from their new M12 Fuel line will start shipping to stores on February 1, 2013, which means that you should be able to purchase them later in the month.
News
Chris November 05, 2012
0
2
Milwaukee first made their new brushless M12 Fuel line of drills and impacts known during their press event way back in June. They then gave us the clue about the winter release date back in August. Now, with winter just around the corner, they have released the specs, and they have us wondering if you really need 18v tools anymore.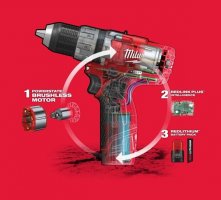 News
Chris August 07, 2012
0
1
Along with Milwaukee's announcement of new higher capacity batteries comes their announcement of new Brushless M12 cordless drivers. In my opinion Milwaukee has been the leader in 12-volt ultra compact tools, and they have shown this again by leading the pack with Brushless ultra compact drivers.
7 results - showing 1 - 7