12 results - showing 1 - 10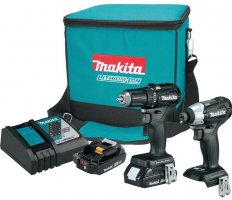 Tool Blog
Chris November 01, 2016
2
1
Many tradesmen, myself included, are not interested in the biggest, badest new tool on the market. What makes us happy is a tool that can do the job, yet takes up as little weight or space as possible; this is what Makita's Black line of 18V Sub-Compact Brushless Drivers seems to be offering.
Tool Blog
Chris August 14, 2015
0
2
Makita is known for making great cordless tools that all use the same 18V lithium-ion battery. In fact, Makita has bragging rights to over 100 tools that are part of their LXT battery platform; and it looks like it is going to grow by at least one more cordless "tool" pretty soon. That is, if you can count a cordless Makita coffee maker as a tool.  Amazon has a new listing for the Makita DCM500Z 18V LXT Cordless Coffee Maker, though currently listed as unavailable, it will hopefully be available soon.
Tool Blog
Chris September 17, 2014
0
1
Makita has announced that they have added a new 13-inch cordless fan to their ever growing LXT 18V line. The fan has three speed settings and it can even oscillate to cover a larger area. A built-in timer can be used to automatically shut the fan down after 1, 2, or 4 hours. Makita says it can run for up to 4 hours on a single 4.0Ah battery, but the included AC adapter can be used for longer run times.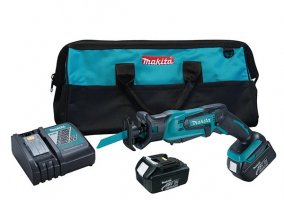 Tool Blog
Chris April 02, 2014
0
1
Makita has announced that they are adding a new 18V Compact Reciprocating Saw to their LXT cordless platform. This addition brings their LXT series to over 70 tools that can all use the same 18V battery.
Tool Blog
Chris January 24, 2014
0
3
We all know how handy cordless circular saws can be, but we also know that they are usually lacking when it comes to overall power and battery run-time. Makita, continuing to expand their new 2x 18-volt (36V) system, showcased their new 2x Cordless 7-1/4" Circular Saw (XSH01Z) that I am sure addresses some of the cordless circular saw shortcomings that we have all come to know and dislike.
News
Chris July 01, 2013
0
1
Back in May, when writing about the introduction of the Makita 36-volt cordless chainsaw, I commented that I would personally like to see a cordless string trimmer. Well, guess what turned up on Makita's website of Friday? The Makita LXRU02Z 18-volt cordless string trimmer.
News
Chris February 25, 2013
0
2
If are ready to start building up a set of Makita 18V cordless tools, and one of their LXT cordless oscillating multi-tools is on your list, you might be interested to know that Makita is now selling them in combo kits.
News
Chris December 28, 2012
1
2
In need of moving some air without having to be tied down with long extension cords? Makita has you covered with the introduction of their new BCF201Z 18-volt LXT cordless fan. With it you have a hassle free way to dry mud, or just keep cool in the summer.
News
Chris November 21, 2012
1
1
Just in time to get one before Christmas, Makita came out with the new LXRM03B Cordless AM/FM Jobsite Radio. Unlike previous models that featured only a line-in for mp3 player connection, the new model features an actual iPod dock.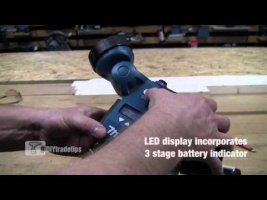 News
Chris September 27, 2012
1
0
Flashlights are always handy to have around and the music from a radio seems to make the day go by faster, so why not combine the two into one compact package? Besides, you can't show off your slick dance moves in the dark.
12 results - showing 1 - 10