2 results - showing 1 - 2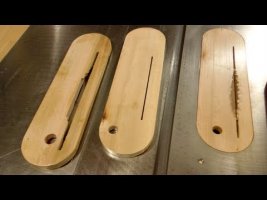 Weekend Links
Chris   June 02, 2012  
1
0
Dust Free Drilling with the Dust Bubble - Homefixated Need to drill a hole and leave no evidence behind? Check out this cool and weird product that will capture the dust into a bubble that you can then throw into the trash. A vacuum is probably more practical for a lot of drilling, but if you have a few holes, this bubble might save you. Load-N-Lock Lunch Bucket - ToolSkool When you go to work you need a manly lunch. The Load-N-Lock Lunch Bucket is big enough to hold your...
News
Chris   March 29, 2011  
0
0
When is a spork not a spork? When it is a titanium super spork. As you can see, the spork still has the required spoon and fork combination; however, this version puts them on opposite ends instead of the usual hybrid. The titanium part also puts this well above the norm. You might also notice that one side of the fork has been sharpened into a knife. This sounds like the perfect jobsite tool for your lunchbox, but I am sure its titanium strengths can also be put to other uses. Mini prybar? The...
2 results - showing 1 - 2