12 results - showing 1 - 10
Tool Blog
Chris December 01, 2016
0
2
One of the most important tools on the jobsite is the box level, but at the same time it is one of the most fragile. If it changes in just the slightest amount, all of the work done with it will be wrong. To ensure your work is never the fault of a bad level, Milwaukee Tool has introduced their new line of REDSTICK box levels, that promise to lead the industry in durability and deliver guaranteed accuracy.
Tool Blog
Chris April 23, 2015
3
0
The problem with levels is that if you want to do the job right, you really need to have a level that fits the size of your project. For door installers this might be a 78" and a 32" level, and for cabinet installers this might be a 24" and a 48". The Mosely Infinity Level wants to solve this problem with their modular system, where level sections can connect to form a level from 12" up to infinity.
News
Chris February 13, 2013
0
1
Johnson has come out with a couple of new torpedo levels designed to meet the specific needs of tradesmen. These 6-inch and 9-inch levels are not your typical plastic torpedo levels but instead are machined out of solid aluminum and offer other professional features.
News
Chris November 14, 2011
0
3
Update: Website and additional photos added. Early next year Swanson Tools will be launching a new professional line of hand tools called Savage. Now I always figured Swanson tools were already for professionals, so I guess this new line of tools will be for more professional professionals, not just your everyday run of the mill professional.
News
Chris August 24, 2011
0
0
DeWalt has just announced the launch of their new 3-beam line-laser (DW089K), and oh how I love to use lasers at work. They make leveling so easy that it is funny to even think about going back to using regular levels to mark long level lines across walls. I think the line-laser is one of the most invaluable tools on the jobsite, at least in my trade. The DW089K is not unlike other line-lasers on the market today, but it does have a rather handy added feature, a third laser line. This extra vertical line gives...
Reviews
Chris June 27, 2011
0
0
You know I love lasers, they automatically make everything cooler, and the Johnson 40-6616 tiling and flooring laser square is no exception. This cool little squaring laser projects two lines across the floor that are 90-degrees apart, thus making it ideal for the flooring trades. But you don't have to be one of the flooring trades to get good use out of this tool; the 40-6616 works great for anyone needing to make squaring lines on the floor. Though the 40-6616 uses new technology like lasers, the tool itself is very simple in design...
News
Chris June 14, 2011
0
0
When is a Stabila level not a Stabila level? When it is a Masterforce level that is made in Germany by Stabila. That's right, the Menards hardware store line of Masterforce levels are actually made by Stabila. The Masterforce levels look like they are an old model of level that Stabila no longer sells under their own name, but if you go to any large jobsite, you would be sure to see these same level in Stabila yellow. There are a couple of advantages to purchasing a Masterforce level over a Stabila, the first...
Reviews
Chris April 28, 2011
0
0
Up this time for review is the Johnson 40-6048 Glo-View Digital Level. This level is built around the Johnson Glo-View level body (reviewed here), but gets boosted into the digital age with a digital readout and all the goodies that goes along with it. Since I have already covered the analog parts of the level in the regular Glo-View review, today I will only be covering the digital parts. Analog levels have served us well for so many years, why do we need to go digital? Well, I am not here to tell you...
News
Chris March 16, 2011
0
0
Cheap plastic $300 lasers not good enough for you? Yeah, I called $300 cheap; what else would you call it when it is going up against a $5000 laser that is the Cornerstone Classic. The Cornerstone Classic is a three-pane line-laser, similar to the Bosch GLL3-80, but way more advanced. No plastic here; the Cornerstone Classic is machined from 7075 aircraft aluminum, 360 brass, and 440c surgical stainless steel. The CC is self leveling, but does not uses a pendulum design like the others on the market, instead it is leveled electronically via precision brushless DC...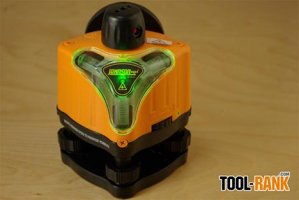 Reviews
Chris February 09, 2011
0
0
Lasers have been one of the most useful and most popular tools in the last 10 years or so. Technology in a whole has been advancing more rapidly then ever before. This allows us to buy more advanced tools from the past at a much lower price today. Case in point is the Johnson Model: 40-0918 manual-leveling rotary laser level that Johnson sent over for review. Just a few years ago it would have been impossible for a DIYer to go out and buy a rotary laser level, but today the 40-0918 can be purchased for...
12 results - showing 1 - 10