9 results - showing 1 - 9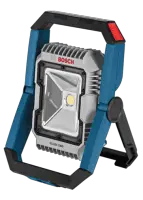 Tool Blog
Chris February 23, 2017
2
1
Bosch has announced a pair of new portable jobsite cordless LED floodlights, the Bosch GLI18V-1900N and GLI18V-1900C. One model even features Bluetooth connectivity that can be controlled with just a tap on your phone.
Tool Blog
Chris September 29, 2016
1
1
I don't know what it is about LED lights, but I am kind of obsessed with them, and when I tell you I am excited about the new SysLite DUO LED Work Light from Festool, I mean it. A lot of this excitements has to do with the insane amount of light it can put out.
Tool Blog
Gary June 19, 2015
1
7
Attending Milwaukee Tool Company's 2015 new product symposium gives me the responsibility of sharing with you some of Milwaukee's great new tools; but this year, more so than others, I have the greater (the bound) responsibility of not sharing some of what Milwaukee has for us in the near future. So, bound by contract until August 1st, about that I'll just say that Milwaukee Tool Company is still all about disruptive innovation. However, since the purpose of the event is to reveal (not conceal) their new tools, let me start by highlighting a few.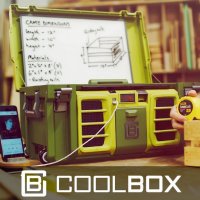 Tool Blog
Chris March 17, 2015
1
1
A toolbox holds your tools—but when you want it to do more, you might need to get yourself a Coolbox. The Coolbox is a new project up in Indiegogo that has already raised over $260,000 of their $50,000 goal. What makes the Coolbox so cool? It is packed full of technology to help make your tool using experience more enjoyable.
Tool Blog
Chris September 29, 2014
0
6
In addition to the two Cordless LED lights that Milwaukee has already come out with, which I reviewed here, they will be coming out with a pair of new M12 and M18 Cordless LED Lanterns. While the previous LED lights were great task lights, the new LED Lanterns will probably be better area lights.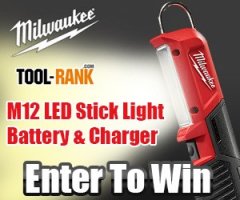 Tool-Rank
Chris August 01, 2014
0
1
Contest Information
Contest Ends
August 31, 2014
If you have read my Milwaukee M12 LED Stick Light Review you would know that I am a huge fan of the cordless LED light. So when I had an opening for a giveaway I knew I had to try and team up with Milwaukee to give one of them away. Milwaukee Tool happily agreed to my request and also decided to throw in a battery and a charger.
Tool Blog
Chris June 18, 2014
0
2
For those of you wanting a small portable miter saw with a big cutting capacity, Makita has introduced their new Model LS0815F 8-1/2-inch Dual-Bevel Sliding Compound Miter Saw. Other than their 18V Miter Saw, it has been more than a few years since Makita has come out with a compact slider, and I am sure it will be a welcomed addition.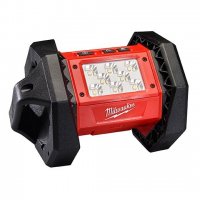 Reviews
Chris June 09, 2014
0
8
A while ago Milwaukee sent me out their M12 LED Stick Light and their M18 LED Flood Light to review, but to be honest, after much testing I couldn't find the words to express how much I love these two light. While I wanted to share a review for these two excellent lights, I just kept putting it off. Well, the wait is finally over; I still might not be able to express my adoration for the Milwaukee cordless LED work lights, but here it goes.
News
Gary June 17, 2013
4
8
sym•po•si•um [sim-poh-zee-uh m] n. a dynamic conference organized for the discussion of the latest innovative Milwaukee tools Before highlighting a sample of the many great tools revealed in this event held last week, it was helpful for me to first check my dictionary for the proper usage of the word; and though Webster might not have defined it exactly this way, having first-look at Milwaukee's latest innovative tools indeed made the Milwaukee tool new product symposium a dynamic conference. With expert product managers showcasing tools like the latest M18 FUEL cordless line; a M18 cordless LED...
9 results - showing 1 - 9