4 results - showing 1 - 4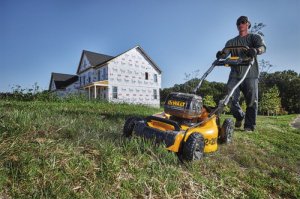 Tool Blog
Chris   February 23, 2018  
1
2
After a few years of offering cordless outdoor power equipment, DeWalt has announced that they will finally be offering a 40V Brushless Mower as an option for professional landscapers, and a second 2x20V MAX mower will also be available for Contractors and DIY'ers.
Reviews
Chris   August 22, 2014  
1
12
Up until recently I wouldn't have been interested in reviewing a cordless lawn mower, but with the new battery and motor technology that is available, my interest in them had piqued. Could they finally compete against their noisy gas filled brothers? It just so happened that Sun Joe contacted me and asked if I wanted to review their new 40V Cordless Brushless Mower, so I had to say yes. I wanted to see for myself if their time to shine had come.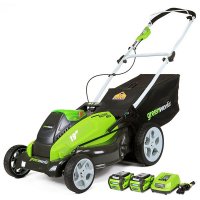 Hot Deals
Chris   April 24, 2014  
0
1
Today only you can save up to 30% off of 16", 19" or 20" GreenWorks 40-volt lithium-ion G-Max lawn mowers from Amazon.com. In case you had any worries about using a battery powered mower, the GreenWorks G-Max mowers have a high 4.3 stars out of 5 on Amazon with 137 reviews.
News
Chris   February 19, 2010  
0
0
I typically do not cover landscaping tools, but there is a first for everything and I know people have an interest in anything that will make life easier or more enjoyable. The grass in my yard is starting to come out hibernation and getting to the point where it needs to be cut. Probably like many of you, mowing is not something I enjoy; for some reason I do not like pushing a mower when it is 100 degrees in the summer. The WeedEater One riding mower looks like it was designed...
4 results - showing 1 - 4