13 results - showing 1 - 10  
Hot Deals
Chris   September 09, 2014  
0
1
It is getting to be that time of the year again, the time when it is best to plant your grass seed. Not too hot that your freshly seeded grass will have a hard time growing, and not too cold that your grass will go dormant and not grow at all. Knowing that it is grass growing season, Lowe's has a selection of Pennington Smart Seed on sale for 20% off for this week.
Reviews
Chris   August 22, 2014  
1
12
Up until recently I wouldn't have been interested in reviewing a cordless lawn mower, but with the new battery and motor technology that is available, my interest in them had piqued. Could they finally compete against their noisy gas filled brothers? It just so happened that Sun Joe contacted me and asked if I wanted to review their new 40V Cordless Brushless Mower, so I had to say yes. I wanted to see for myself if their time to shine had come.
Tool Blog
Chris   July 22, 2014  
0
1
Makita has announced another cordless solution for landscapers with the addition of their 18V LXT Lithium-Ion Brushless Cordless String Trimmer (XRU04Z, tool only). It comes a year after their first cordless string trimmer hit US markets, but because of Brushless technology, it offers a significant increase in runtime.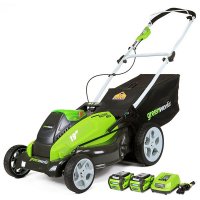 Hot Deals
Chris   April 24, 2014  
0
1
Today only you can save up to 30% off of 16", 19" or 20" GreenWorks 40-volt lithium-ion G-Max lawn mowers from Amazon.com. In case you had any worries about using a battery powered mower, the GreenWorks G-Max mowers have a high 4.3 stars out of 5 on Amazon with 137 reviews.
Hot Deals
Chris   March 17, 2014  
0
1
If gardening is on your to-do list this spring, you might be interested in knowing that Lowe's has marked down some key tools that might make your projects go a little easier. For a limited time a Kobalt Shovel, Garden Rake, and Leaf Rake have been marked down 23-25%.
Tool Blog
Chris   October 25, 2013  
1
2
If you are not the type of person that likes to spend the afternoon using a rake to pick all the leaves that have fallen onto your yard, Worx might have something you would be interested in. Their LeafPro is a new universal collection system that takes the leaves from a blower/mulcher/vac and deposits them directly into a trashcan.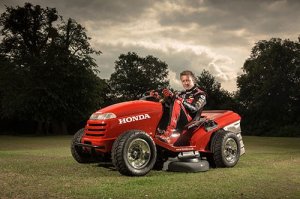 News
Chris   July 19, 2013  
1
1
Is there any practical reason for building a riding mower that can travel at 130MPH? Probably not, but that didn't stop Honda from teaming up with their British Touring Car Championship (BTCC) partner, Team Dynamics, to do it anyway. And as unpractical as it is, it can still cut grass.
News
Chris   July 01, 2013  
0
1
Back in May, when writing about the introduction of the Makita 36-volt cordless chainsaw, I commented that I would personally like to see a cordless string trimmer. Well, guess what turned up on Makita's website of Friday? The Makita LXRU02Z 18-volt cordless string trimmer.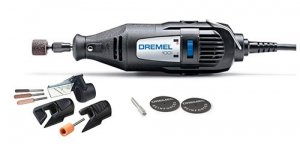 News
Chris   April 12, 2013  
0
1
To help you get ready for spring time lawn and garden work Dremel has come out with the new Dremel 100-LG Lawn and Garden tool sharpening kit. The kit includes everything needed to maintain and sharpen the most common lawn & garden tools.
Reviews
Gary   April 17, 2012  
0
4
My wife loves her garden; so when she happened to suggest that this year she would like to try raised garden beds, and Craftsman happened to request a review of their new digging shovel, I said; "let's get started." A serious digging project requires a serious digging tool, and the Craftsman Long Handle Digging shovel is as serious as they come.
13 results - showing 1 - 10