5 results - showing 1 - 5  
Tool Blog
Gary   July 02, 2012  
1
5
Bosch, a name synonymous with professional grade tools and accessories, has recently concluded their 2012 press event. There, in addition to seeing their latest products, I got to meet some of the folks responsible for getting these great products into the hands of great professionals--like you. Informing our group, president and CEO of Bosch Power Tools, Terry Horan, mentioned that while other tool companies tout innovation, Bosch has their focus on invention, and that tweaking an existing tool to make it their own is not the way things are done at Bosch. I was reminded that Bosch is...
News
Chris   June 06, 2012  
1
0
When you need to cut compound miters a miter saw is usually your best bet. But the miter saw does have its size limitations and usually maxes out at a 4x4" capacity. When you need to make bigger cuts you need to look to other tools, and this chainsaw timber cutting guide from Ligna Tool, surprisingly, looks like it can match a miter saw for accuracy.
Reviews
Chris   June 27, 2011  
0
0
You know I love lasers, they automatically make everything cooler, and the Johnson 40-6616 tiling and flooring laser square is no exception. This cool little squaring laser projects two lines across the floor that are 90-degrees apart, thus making it ideal for the flooring trades. But you don't have to be one of the flooring trades to get good use out of this tool; the 40-6616 works great for anyone needing to make squaring lines on the floor. Though the 40-6616 uses new technology like lasers, the tool itself is very simple in design...
Reviews
Chris   June 12, 2011  
0
0
Tools are cool and lasers are cool, so we can pretty much assume that tools with lasers on them are double cool. So when Johnson Level sent over their 40-0921 self-leveling cross-line laser, even though I have used other cross-line lasers, I knew I would have fun testing it out. So after getting the kit out of the box, the obvious next step was to take it to the jobsite and put it to work. The Johnson 40-0921 comes in at a price of around $100 which puts it in the price range and...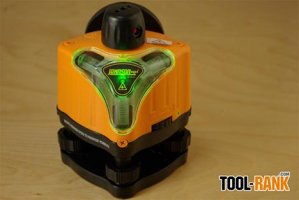 Reviews
Chris   February 09, 2011  
0
0
Lasers have been one of the most useful and most popular tools in the last 10 years or so. Technology in a whole has been advancing more rapidly then ever before. This allows us to buy more advanced tools from the past at a much lower price today. Case in point is the Johnson Model: 40-0918 manual-leveling rotary laser level that Johnson sent over for review. Just a few years ago it would have been impossible for a DIYer to go out and buy a rotary laser level, but today the 40-0918 can be purchased for...
5 results - showing 1 - 5