10 results - showing 1 - 10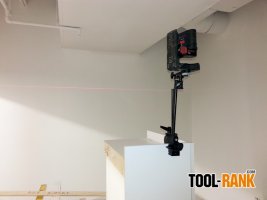 Tool Blog
Chris May 18, 2015
0
4
Laser levels are not only common on a jobsite; they are becoming essential. One of the problems with using them, though, is quickly positioning them at an exact height. In search of a better solution, I looked at what I already had, and I think I have found the perfect solution for leveling a laser that is quick, portable, versatile, and precise.
Tool-Rank
Chris February 02, 2014
0
2
Contest Information
Contest Ends
February 28, 2014
One of the modern tools that makes life a whole lot easier is the cross-line laser level. If I put together a list of tools that every DIY'er should own, the cross-line laser would be on that list. So needless to say, I am happy to announce that this month Tool-Rank has teamed up with Johnson Level to giveaway one of their brand new 40-6650 Self-Leveling Cross-Line Laser Levels.
Tool Blog
Chris January 16, 2014
0
2
Bosch does a pretty good job at updating their laser levels, bringing us models with better specifications to replace previous models. This time around Bosch has announced the GLL 2-15 Self-Leveling Cross-Line Laser Level that looks to be replacing the older GLL2-40 with improvements to laser range.
Manufacturer News
Chris June 29, 2012
1
0
The 360 Laser Line technology that Bosch has developed has always been impressive to me. It offers much of the benefits of a traditional rotary laser but because it has less moving parts, it can be manufactured at a fraction of the cost. Not to mention that it is super handy to see the line all around the room. Bosch is now moving this same 360 technology to their CST/berger brand and have introduced the LL20 Exterior Self Leveling Line Laser.
Manufacturer News
Chris March 27, 2012
0
3
Hat tip to Jay over at CopTool for discovering this one. It turns out the 2012 Bosch Tool Catalog is now available at select tools stores and available online, and hidden inside its paper-thin walls are a few exciting new tools. Jay discovered a new Bosch Laser that is specifically designed to check the levelness of floors as well as a new Bosch wet tile/stone saw. Too bad it looks like the floor level cannot be used on walls. When doing wall paneling, a flat wall is a must and making a wall flat is the hardest part. ...
News
Chris December 15, 2011
0
3
We first learned about Origin Laser Tools when they introduced the world to their $5000 3-axis self-leveling 360-degree line laser. Not only is it the coolest looking 3-axis laser on the market, but it has an incredible accuracy of ±1/32" @ 100 feet. Origin Laser Tools is at it again, this time with the LaserCube ML-3.
Reviews
Chris June 12, 2011
0
0
Tools are cool and lasers are cool, so we can pretty much assume that tools with lasers on them are double cool. So when Johnson Level sent over their 40-0921 self-leveling cross-line laser, even though I have used other cross-line lasers, I knew I would have fun testing it out. So after getting the kit out of the box, the obvious next step was to take it to the jobsite and put it to work. The Johnson 40-0921 comes in at a price of around $100 which puts it in the price range and...
News
Chris March 16, 2011
0
0
Cheap plastic $300 lasers not good enough for you? Yeah, I called $300 cheap; what else would you call it when it is going up against a $5000 laser that is the Cornerstone Classic. The Cornerstone Classic is a three-pane line-laser, similar to the Bosch GLL3-80, but way more advanced. No plastic here; the Cornerstone Classic is machined from 7075 aircraft aluminum, 360 brass, and 440c surgical stainless steel. The CC is self leveling, but does not uses a pendulum design like the others on the market, instead it is leveled electronically via precision brushless DC...
News
Chris March 11, 2011
0
0
Bosch is bringing us a smaller more compact cross-line laser with their new GLL2-40. I have the older GLL2-50 laser that I purchased when it first came out, and judging by the photos, the GLL2-40 appears to be quite a bit smaller. After a quick look at the specs I can see that the GLL2-40 is smaller in length, width, and height. The smaller size does come in handy in many cases, but the small size of the laser does indeed come at a cost to the laser's accuracy. The GLL2-40 has an accuracy of ±1/8-in...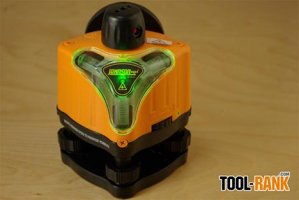 Reviews
Chris February 09, 2011
0
0
Lasers have been one of the most useful and most popular tools in the last 10 years or so. Technology in a whole has been advancing more rapidly then ever before. This allows us to buy more advanced tools from the past at a much lower price today. Case in point is the Johnson Model: 40-0918 manual-leveling rotary laser level that Johnson sent over for review. Just a few years ago it would have been impossible for a DIYer to go out and buy a rotary laser level, but today the 40-0918 can be purchased for...
10 results - showing 1 - 10