2 results - showing 1 - 2  
Hot Deals
Chris   January 24, 2014  
0
1
Amazon has a new lower sale price on the Porter-Cable 7312 Offset Base Laminate Trimmer. It was previously for sale at about $150 but has now been lowered to $125.77. As with all Amazon products its price could change at any time but usually it will stay the same for a couple of days.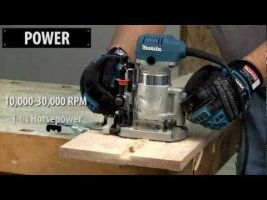 Manufacturer News
Chris   March 26, 2012  
1
0
We have seen in these last few years that people are moving away from bulky tools that do way more than they need from them, and instead are purchasing tools that better match their needs. In response to this, Makita has announced a new 1-1/4 HP Compact Router with multiple base options that should be able to handle most of your jobsite routing needs.
2 results - showing 1 - 2