Tool Blog
Chris   August 03, 2016  
1
1
There is one storage box that Mythbusters' Adam Savage loves so much that he uses dozens of them in his workshop to try and stay organized; that box is the T-BOXX from Sortimo. Unfortunately, until now it has been rather difficult trying to locate his storage box of choice.  Thankfully, after much anticipation, Sortimo has launched a new online store for the US, something I asked them to do years ago when I first wrote about them.
News
Chris   July 18, 2013  
0
1
Not wanting to let their 12V users be alone in the joy of having music on the jobsite, Bosch has come out with a similarly designed 18V portable jobsite radio. Unlike their previous 18V radio, Bosch slimmed down the size of the new PB180 so that it can fit inside an L-BOXX-2 tool case.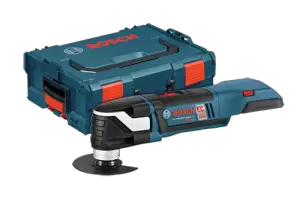 News
Chris   June 18, 2013  
0
1
We first saw the Bosch 18V Multi-X pop up on the German website back in March, and then Bosch confirmed that it would be coming to the US when it made an appearance on their US Facebook page in May. We have been anticipating the 18V Multi-X for a while now, and finally Bosch has given us a release date and a price to go with it.
Tool Blog
Chris   May 15, 2013  
0
1
So, you have a bunch of tools you want to organize using Bosch's Click & Go L-BOXX system but you are not sure what you need. Bosch has a new online configuration tool that might help you out.
Manufacturer News
Chris   March 15, 2013  
0
19
Literally, if you took all of the products Bosch Germany announced the other day and multiplied them by X, they would surly weigh a ton or more. There are so many tools I don't know where to start—how do tools that talk to your smart phone sound?
Hot Deals
Chris   November 23, 2012  
0
1
Update 6/4/2013 - This deal is back up for grabs for a third time as an Amazon Gold Box Deal of the day. Even though a lot of time has gone by since this was first posted, this is still a good deal at $93 because of the two included L-Boxx cases. Update 1/8/2013 - Amazon has brought this deal back as a Gold Box for today. Get it while you can, you don't want to miss out. 11/23/2012 - We don't see deals like this very often, but this package deal that...
Tool Blog
Chris   October 29, 2012  
2
4
We all need to eat, so having enough food on hand incase of a natural disaster is key. The East Coast is currently being hit by hurricane Sandy and the days leading up to the storm led to crowded stores full of the unprepared looking to stock up on food. Building a disaster kit ahead of time could have saved these people a lot of stress.
Tool Storage
Chris   October 24, 2012  
0
1
1-Click Stacking - Easily lock tool cases together for easy transport and handling Top, and Side Handles - 2 carrying options for comfort in all situations Comfortable Locking Clips - Easy to lock and unlock for fast access to tools Theft Security - Lockable cases Durable - Shock proof (fully crash tested) and water resistant material
Tool Storage
Chris   October 24, 2012  
0
1
1-Click Stacking - Easily lock tool cases together for easy transport and handling Top, and Side Handles - 2 carrying options for comfort in all situations Comfortable Locking Clips - Easy to lock and unlock for fast access to tools Theft Security - Lockable cases Durable - Shock proof (fully crash tested) and water resistant material
Tool Storage
Chris   October 24, 2012  
0
1
1-Click Stacking - Easily lock tool cases together for easy transport and handling Top, Front and Side Handles - 3 carrying options for comfort in all situations Comfortable Locking Clips - Easy to lock and unlock for fast access to tools Theft Security - Lockable cases Durable - Shock proof (fully crash tested) and water resistant material