3 results - showing 1 - 3  
Hot Deals
Chris   November 23, 2012  
0
1
Update 6/4/2013 - This deal is back up for grabs for a third time as an Amazon Gold Box Deal of the day. Even though a lot of time has gone by since this was first posted, this is still a good deal at $93 because of the two included L-Boxx cases. Update 1/8/2013 - Amazon has brought this deal back as a Gold Box for today. Get it while you can, you don't want to miss out. 11/23/2012 - We don't see deals like this very often, but this package deal that...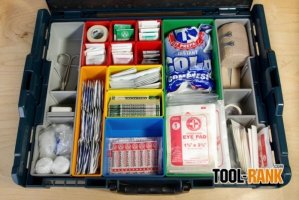 Tool Blog
Chris   October 22, 2012  
1
10
One thing you should always have, whether you are prepping for a natural disaster or not, is a good first aid kit. In the first part of my 72-hour emergency kit build I make use of the dividers that are included in the model L-BOXX1A, which is part of the Bosch Click & Go modular storage system.
Tool Blog
Chris   October 15, 2012  
1
1
Are you prepared to handle the aftermath of a natural disaster? The Red Cross, FEMA, and a countless number of other groups and agencies say that you should have at least a 3-day (72-hour) supply of food, water, and other supplies you might need to help you get through a disaster.
3 results - showing 1 - 3