5 results - showing 1 - 5  
Tool Blog
Chris   February 21, 2019  
1
5
Finally, someone has made a Track Saw the right way, and by "right", I actually mean left. What I actually mean is that Kreg has come out with a new Track Saw System and they have gone against the norm by using a blade-left design—something I have been complaining about for years. The new Kreg Track Saw is more than just the saw though;  the saw is only part of the Kreg Adaptive Cutting System, designed to replace a table saw and even a miter saw for certain tasks.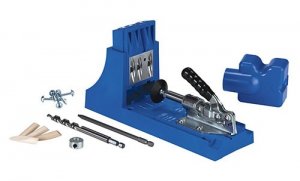 Hot Deals
Chris   July 14, 2014  
0
1
A pocket hole jig is without a doubt the easiest way to join two pieces of wood together, and Amazon has the Kreg Jig K4 Pocket Hole System on sale for just under $88. The kit normally sells for around $100. It doesn't go on sale very often, so if has been on your wish list, it might be time to buy. 
News
Chris   May 06, 2013  
1
1
Kreg is making using their products a bit easier and a bit faster with their new line of Automaxx self-adjusting clamps. Best of all, they came out with a self-adjusting AutoMaxx Klamp that works with their existing Klamp line, like the Klamp Table or Klamp track.
Hot Deals
Chris   November 29, 2012  
1
1
You might not have heard about Keter, but you have probably seen their products around, especially their Cantilever Organizer. You can find their boxes in all kinds of stores under many different names, but now you can find an actual Keter named 18-Inch Cantilever Tools Box at Sams Club at a really good price.
News
Chris   August 06, 2012  
1
0
Kreg has come out with a new layout tool that just might be good enough to replace your combination square for good. Why? Everything I use my combination square for the Kreg Multi-Mark can do, but it can also do so much more.
5 results - showing 1 - 5