8 results - showing 1 - 8
Tool Blog
Chris January 26, 2015
1
1
Drilling, tapping, and deburring typically requires three separate tools and at least a couple of minutes of your time for each hole. Klein has introduced their new Drill Tap Tool Kit that requires only one tool to accomplish all three tasks, and best of all, it is a lot faster to use.
Tool Blog
Chris June 11, 2014
0
1
Our hands are one of our most valuable tools, so why not protect them? According to the Bureau of Labor Statistics, 25.3 percent of all work-related lost-day injuries are hand-related. Maybe you think there isn't a glove out there for you, but that is why Klein is introducing six new gloves styles as part of their Journeyman Glove line.
Tool Blog
Chris April 17, 2014
1
1
Klein Tools is expanding their insulated hand tools line with new electrician's tools with "slimmer, sleeker profiles", which have been certified by VDE in Germany.  These "made in the USA" tools feature a three-part insulation and have been tested to 10,000V and rated at 1,000V.
Tool Blog
Chris March 31, 2014
0
1
Oftentimes it is a good idea to have a specific tool for each task, but then again, sometimes it is nice to have tools that can do more than just one thing. With the promise of being able to handle the bulk of your wire prep needs, I think Klein's new J2068C All-Purpose Pliers fall into the latter category.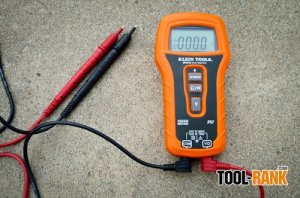 Reviews
Chris December 18, 2013
1
6
If you are tired of having to baby your multimeter with special padded cases, cringing with each step up on your ladder as your precious meter leaves the safety of the ground, worrying that it could slip to its certain death? Then Klein's new MM500 Auto-Ranging tough meter might be just what you need.
Tool Blog
Chris October 23, 2013
1
1
Klein has launched a new line of storage and laptop bags for professional tradesmen and technicians. In addition to a backpack and a shoulder bag capable of holding a laptop or tablet, they have also introduced a trio of meter carrying cases and a pair of smartphone cases.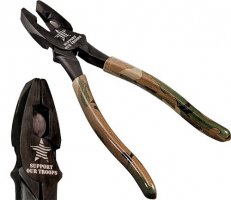 News
Chris May 24, 2013
0
1
Klein has announced that in addition to donating $25,000 in 2013 to Operation Homefront, an organization that helps our Military and their families, they are also coming out with a new limited edition Camouflaged 2000 Series High-Leverage Side-Cutting Pliers.
News
Chris March 29, 2013
0
1
Klein Tools announced some new additions to their Tradesman Pro line of tool organizers that have been designed to meet the needs of professionals. While Klein Tools are typically marketed towards electrical contractors, anyone can benefit from their organizers.
8 results - showing 1 - 8