6 results - showing 1 - 6
Tool Blog
Chris March 13, 2015
0
4
Do tool chests need to be made of metal? Well if Keter is making them, their answer is no, as Keter is a manufacturer of plastic products. Their modular tool chest system will allow users to customize their tool storage to match their needs, and adjust as they grow.
Tool Blog
Chris March 06, 2014
0
1
Keter is the maker of those popular cantilever organizers and toolboxes that you for sale at the Home Depot, or as part of a Kreg Jig kit. Keter offers them in a few different sizes and configurations, but up until now they have all been 2-tiered models. Well that has all changed.
Hot Deals
Chris November 29, 2012
1
1
You might not have heard about Keter, but you have probably seen their products around, especially their Cantilever Organizer. You can find their boxes in all kinds of stores under many different names, but now you can find an actual Keter named 18-Inch Cantilever Tools Box at Sams Club at a really good price.
News
Chris July 26, 2012
1
0
One of the keys to being efficient is proper tool organization. I am not just talking about keeping your tools organized while they are not in use, but also while they are in use. This desktop Tool Stand or Caddy from Keter looks like a simple way to keep your most often used tools organized and in easy reach.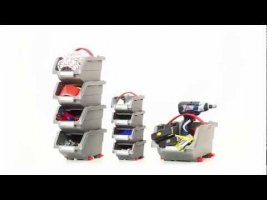 News
Chris June 07, 2012
1
0
So I was perusing the Keter website the other day and came across their new Click Bin product. The Click Bin is similar to other stackable small parts bins on the market today, but what sets it apart is the ability to lock the bins together in stacks, kind of like the modular toolboxes from other manufacturers.
News
Chris January 25, 2012
1
0
Rolling tool boxes are becoming more and more popular on the jobsite. Workers often have to pick up from one location and move to another, and having wheels makes the process that much quicker and easier. Stanley makes a rolling tool chest that is commonly found on the jobsites and is one that I use, but the features on the Keter Master Pro Sliding Tool Chest have me thinking I need a change.
6 results - showing 1 - 6