12 results - showing 1 - 10  
Tool Blog
Chris   December 15, 2015  
0
2
Milwaukee One-Key is a new feature that Milwaukee announced back in September that allows One-Key enabled tools to communicate wirelessly with smartphones running the One-Key App. While the App was released in September, since no One-Key enabled tools were available, it was only really useful for tool inventory management. That is all about to change February 2016 when the first One-Key enabled tools with Tool Control will hit store shelves. These first One-Key Tool Control tools will be a selection of M18 Fuel Drills and Impacts.
Tool Blog
Chris   August 29, 2014  
0
1
Makita is continuing to expand their Brushless line of cordless tools, this time with a new 3-speed ½-inch Impact Wrench, model XWT02M. The new impact wrench kit will also include the new Makita 4.0Ah batteries, which have a best-in-class charge time of only 40-minutes.
Tool Blog
Chris   August 28, 2014  
0
1
DeWalt has come out with a new line of air tools for professionals in the automotive industry. DeWalt says they have been engineered to meet the high-end performance standards demanded by tradesmen and they include features that ensure they can take as much as they can give.
Manufacturer News
Chris   October 04, 2013  
0
2
Milwaukee Tools is set to release a total of six new M18 Compact Drills and Drivers over the next few months that will replace existing models. The new models include two Drills (2606-22CT, 2607-22), two Impact Drivers (2657-22CT, 2656-20), and Two Impact Wrenches (2658-22, 2659-22). All six boast improvements to ergonomics and overall performance.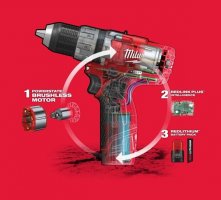 News
Chris   August 07, 2012  
0
1
Along with Milwaukee's announcement of new higher capacity batteries comes their announcement of new Brushless M12 cordless drivers. In my opinion Milwaukee has been the leader in 12-volt ultra compact tools, and they have shown this again by leading the pack with Brushless ultra compact drivers.
News
Chris   February 08, 2012  
0
18
Today DeWalt showed us that there are not messing around and they are willing to compete with the other brands to win you over. They were a little behind and had to play catch up with their 18-volt slide-style battery tools known to us as 20V Max, but it looks like they have kept their engineers busy to keep the 20V Max selection growing fast. It was back in June 2011 when DeWalt first introduced their 20V Max tool line and now, only 8 months later, they are expanding on their line with 8 new 20V tools. ...
Editorial
Chris   January 10, 2012  
0
0
The world of tools is filled with lots of questions and confusions, which are sometimes magnified by tool manufacturers and their fancy way of using words to try and sell you something. These confusions can be hard for the consumer who just wants to buy the right tool. So, in order to clear up some of these questions, I thought I would answer some of the most common questions I receive.
Manufacturer News
Chris   September 07, 2011  
0
0
Thought NiCad was dead? Guess again. We knew DeWalt planned to support their 18-volt line for years down the road, but I just assumed that meant their 18-volt lithium-ion line. It turns out that is not the case at all, because DeWalt has just announced the new DW059HK-2 1/2-inch Impact Wrench that uses good old 18-volt NiCad technology. This should be good news for people with a stock of 18-volt DW batteries, and don't feel it is time to upgrade. "The DW059HK-2 complements the other tools in our 18 volt system and...
News
Chris   May 16, 2011  
0
0
Makita has added yet another tool to their ultra compact line. Makita's new entry to their line is the Model WT01 3/8-inch Impact Wrench. These are a little less common then your standard impact driver, but they have the same general function. The advantage of the impact wrench is its ability to handle sockets without the need for adapters. The WT01 offers 1,000 in.lbs. of torque in a tool that is only 6-3/8" long and weights only 2.1 lbs. The impact wrench uses a Makita-built motor that provides veritable speeds of 0-2,300 RPM's and 0-3,000 IPM's....
Hot Deals
Chris   March 30, 2011  
0
0
Amazon.com has a pretty sweet deal on the newer DeWalt ultra compact 12V Max line of lithium-ion tools. If you purchase one of these tools, Amazon will send you a $25 gift card, which brings the cost of some of the tools down to under $100. Sadly you are limited to only one gift card. This offer is good through March 31, 2011, so HURRY. This offer is valid for the following tools: DCF610S2 1/4-inch Screwdriver DCF815S2 1/4-inch Impact Driver DCF813S2 3/8-inch Impact Wrench DCD710S2 3/8-inch Drill...
12 results - showing 1 - 10