News
Chris   April 24, 2012  
0
1
If you have already purchased one of the new Milwaukee 18V Brushless Drills, or you are just looking for an upgrade, you won't have to wait very long until you can get your hand on the new Milwaukee M18 Fuel Brushless 1/4" Impact Driver. The Impacts are expected to hit store shelves in June, and specifications look very promising.
Manufacturer News
Chris   March 19, 2012  
0
0
Makita introduced a new Impact Driver (model LXDT04) and a new Hammer Drill (model LXPH01) over the weekend, but their specifications lead me to believe that these belong in a mid-range class. I don't know that Makita officially has a mid-range class of tools, but I believe these tools fall into that class for a number of reasons. Either that or Makita is moving in the wrong direction in order to produce more compact tools.

Weekend Links
Chris   March 09, 2012  
0
0
Lead Paint Opt-Out Bill May Soften Tough New Lead Law – HCI The new lead laws introduced by the EPA are a pain in the backside, but a new bill might take some of sting away by allowing home owners to opt-out. Why opt -out? Because many contractors will not touch a house with lead paint because of the harsh EPA laws Skinth OG Ultimate Multi-Tool Sheath – ToolGuyd Some guys like to carry around small tools (known as EDC or everyday carry) to help them throughout the day and...
News
Chris   February 08, 2012  
0
18
Today DeWalt showed us that there are not messing around and they are willing to compete with the other brands to win you over. They were a little behind and had to play catch up with their 18-volt slide-style battery tools known to us as 20V Max, but it looks like they have kept their engineers busy to keep the 20V Max selection growing fast. It was back in June 2011 when DeWalt first introduced their 20V Max tool line and now, only 8 months later, they are expanding on their line with 8 new 20V tools. ...
Editorial
Chris   January 10, 2012  
0
0
The world of tools is filled with lots of questions and confusions, which are sometimes magnified by tool manufacturers and their fancy way of using words to try and sell you something. These confusions can be hard for the consumer who just wants to buy the right tool. So, in order to clear up some of these questions, I thought I would answer some of the most common questions I receive.
News
Chris   September 23, 2011  
1
0
For many Festool owners it is either Festool tools or nothing, and in a time when just about every tool user has an impact driver, these same Festool fans have been making excuses as to why they don't need an impact driver. I have heard excuses like, "I don't need an impact because my Festool drill has more than enough power". Really? More torque than an impact driver? Sure their reasoning is a joke, but we have to admire their loyalty, even though it is annoying. But soon all those Festool owners that don't need impact...
News
Chris   September 14, 2011  
0
0
One thing I really like about Makita is that they update their tools often; in many cases frequent updates could be perceived as a bad thing, suggesting that a product is being updated to fix an issue, but I have never found that to be the case with Makita. I have been using Makita impact drivers for over 10 years now, well before they were popular, and have used a few different models during that time. This time around Makita has no huge changes to their new LXDT01 1/4-inch Impact Drivers, but even the...
Manufacturer News
Chris   June 02, 2011  
0
0
I predicted DeWalt would be announcing their 20 Volt line of tools in June, and here we are, I was right, and I am still not a fan of calling 18V tools 20V Max, but this is a battle I cannot win. I always say that if you are going to buy a cordless tool, you are really buying into the whole manufacturers cordless system. Once you own one tool from a manufacturer you are more likely to stick with the same battery and charger, so you buy other tools. So when a manufacturers...
Hot Deals
Chris   March 30, 2011  
0
0
Amazon.com has a pretty sweet deal on the newer DeWalt ultra compact 12V Max line of lithium-ion tools. If you purchase one of these tools, Amazon will send you a $25 gift card, which brings the cost of some of the tools down to under $100. Sadly you are limited to only one gift card. This offer is good through March 31, 2011, so HURRY. This offer is valid for the following tools: DCF610S2 1/4-inch Screwdriver DCF815S2 1/4-inch Impact Driver DCF813S2 3/8-inch Impact Wrench DCD710S2 3/8-inch Drill...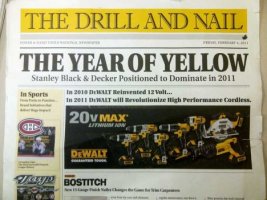 News
Chris   March 18, 2011  
0
0
ToolsInAction has the scoop on what is possibly the new 20V Max lithium-ion line from DeWalt. They somehow got a hold of a flyer that pictures what appears to be a new line that will be released later this year. I believe DeWalt announced their 12V line back in June of last year, so if they are following the same timeline, we have a few more months to wait. The flyer shows 3 drills, 2 impacts, a reciprocating saw, and a circular saw. The new line looks a lot like their 12V line, and uses a...