News
Chris   January 22, 2013  
0
4
It looks like Rockwell Tools is bringing the 14.4V cordless class back from the dead. With 18V tools becoming more powerful than ever and 12V tools becoming smaller than ever, Rockwell is looking to fill the gap.
News
Chris   January 08, 2013  
0
1
Milwaukee announced on their Facebook page that products from their new M12 Fuel line will start shipping to stores on February 1, 2013, which means that you should be able to purchase them later in the month.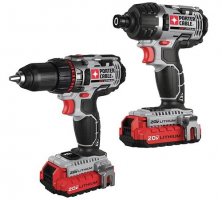 News
Chris   January 07, 2013  
0
1
Porter-Cable has announced a February release date for their new 20V Max Lithium-ion Drill and Impact Driver. And Tool-Rank still hates having to explain to people that 20V Max is the same as 18V.
News
Chris   October 05, 2012  
0
0
It doesn't look like Makita is on the same product release cycle as the other manufacturers. They have already released a couple of impact drivers this year, but I guess there is always room for one more, especially when it will replace their top of the line model.
Manufacturer News
Chris   October 02, 2012  
0
3
Who do we turn to when we need saving? Why the Justice League of course. But who does the Justice League turn to when the Hall of Justice needs saving from disrepair? Apparently they turn to the Craftsman Technician and his trusty Craftsman Bolt-On Modular Tool System.
Tool-Rank
Chris   October 01, 2012  
0
1
Contest Information
Contest Ends
October 31, 2012
If you do not own an impact driver you are missing out on one of the best inventions to become mainstream over the last decade. They are a God send to anyone who drives screws, and many who use an impact driver find it impossible to revert back to driving screws with a traditional powered drill/driver. To learn more, check out: What's the difference between a hammer drill and an impact driver? Bosch Tools was awesome enough to sponsor this month's giveaway and provide one of their NEW model IDS181-02 18-volt Impact Driver Kits, so that...
News
Chris   August 31, 2012  
0
2
How much power do you really need from an impact driver? Unless you are running lag bolts, you really don't need as much as the top of the line impact drivers offer. The race to be the most powerful will never end, but that doesn't mean that you need to participate in that race. You might just need something like Bosch's new IDS181 Impactor, an Impact Driver for driving screws.
News
Chris   August 21, 2012  
0
4
Black & Decker has just announced their new Matrix Multi-Head modular tool system which will allow users to build up their tool inventory one head at a time. Users will also be able to select the power of the new system by selecting one of three power base units.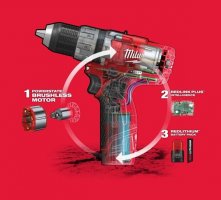 News
Chris   August 07, 2012  
0
1
Along with Milwaukee's announcement of new higher capacity batteries comes their announcement of new Brushless M12 cordless drivers. In my opinion Milwaukee has been the leader in 12-volt ultra compact tools, and they have shown this again by leading the pack with Brushless ultra compact drivers.
Hot Deals
Chris   May 15, 2012  
0
0
There are a few great deals on Bosch tools leading up to Fathers Day, but this one from Home Depot is a real sweet one. HomeDepot.com has the Bosch 18V Compact Lithium-ion Drill (DDB180-02) marked down from $148 down to $99 + F/S. And this is not just the tool, this is a complete kit with two batteries and a charger. If that was not good enough for you, this drill also qualifies for a Bosch mail-in rebate that will get you two additional 18V slim-pack batteries. So in total you get a Bosch 18V Compact...