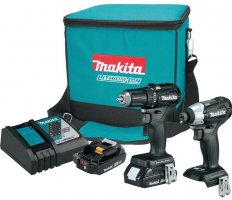 Tool Blog
Chris   November 01, 2016  
2
1
Many tradesmen, myself included, are not interested in the biggest, badest new tool on the market. What makes us happy is a tool that can do the job, yet takes up as little weight or space as possible; this is what Makita's Black line of 18V Sub-Compact Brushless Drivers seems to be offering.
Reviews
Chris   July 14, 2016  
1
3
When I first heard about the features Milwaukee was planning on incorporating into their One-Key system I could not help but feel like a little kid waiting for that hot new toy of the year to come out. After getting samples of the Milwaukee One-Key Drill (2705-20) and the One-Key Impact (2757-20), and after the new-tool-high started to wear off, I got down to business, trying to find out if the One-Key system is a useful feature or just something fancy that I can show to the co-workers but would rarely use. Is was time for me to...
Tool Blog
Chris   December 15, 2015  
0
2
Milwaukee One-Key is a new feature that Milwaukee announced back in September that allows One-Key enabled tools to communicate wirelessly with smartphones running the One-Key App. While the App was released in September, since no One-Key enabled tools were available, it was only really useful for tool inventory management. That is all about to change February 2016 when the first One-Key enabled tools with Tool Control will hit store shelves. These first One-Key Tool Control tools will be a selection of M18 Fuel Drills and Impacts.
Tool Blog
Chris   February 27, 2015  
0
1
Rockwell is proving that they can keep up with the big boys by coming out with their own brushless Drill & Impact Driver Combo Kit. Their brushless motor technology increases battery runtime by 50% per charge over brushed motors and is backed by a 10-year warranty.
Manufacturer News
Chris   November 05, 2013  
1
0
Bosch sent out an email yesterday with a subject line reading "Next big thing is coming!" If you open up the email there is a video (below) that shows the reactions of various contractors after they got their hands on it. In the video we can hear what sounds like an impact driver, but it is what one guy says that suggests it could be something more; "I'd say it's the next best thing... since the impact". He goes on to say "this makes it right here, the impact part of it..." So what is it, part...
Manufacturer News
Chris   October 04, 2013  
0
2
Milwaukee Tools is set to release a total of six new M18 Compact Drills and Drivers over the next few months that will replace existing models. The new models include two Drills (2606-22CT, 2607-22), two Impact Drivers (2657-22CT, 2656-20), and Two Impact Wrenches (2658-22, 2659-22). All six boast improvements to ergonomics and overall performance.
Hot Deals
Chris   August 13, 2013  
0
1
Sears has a hot deal up right now on a 12V Drill and Impact kit for the low low price of $39.99, Regular $109.99. The kit also includes a single 12V lithium-ion battery. The kit would be considered light-duty by today's standards, but at only $40 it is well worth the price. Buy it as a tool to use around the house and it will pay for itself after just a few uses. Heck, the impact has more torque than the impact I used every day on the job a few years ago. If I didn't have...
Reviews
Chris   June 06, 2013  
0
9
Back when I tested the Milwaukee M18 Fuel Brushless Hammer Drill, I found that it easily proved itself to be a powerhouse. It took on every task with speed, while also showing long battery life. Being that their M18 Fuel Impact driver is in the same M18 Fuel family, can it too prove to be a powerhouse? Let's find out.
News
Chris   April 18, 2013  
1
1
About 6 months ago I wrote about the Makita LXDT06 and its new Quick-Shift function after I spotted it on the Makita site. But shortly after I wrote about the new impact it was removed from the site. Now almost a year after Canada had it, it looks like we will finally have an opportunity to buy the LXDT06 for ourselves.
News
Chris   February 25, 2013  
0
2
If are ready to start building up a set of Makita 18V cordless tools, and one of their LXT cordless oscillating multi-tools is on your list, you might be interested to know that Makita is now selling them in combo kits.