2 results - showing 1 - 2  
Manufacturer News
Chris   March 15, 2013  
0
19
Literally, if you took all of the products Bosch Germany announced the other day and multiplied them by X, they would surly weigh a ton or more. There are so many tools I don't know where to start—how do tools that talk to your smart phone sound?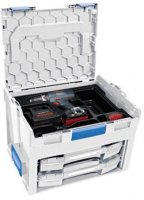 News
Chris   June 17, 2011  
0
0
Sortimo has announced their new LS-Boxx, which is identical in size to their medium L-Boxx's, but instead has an opening in the front for removable trays. These trays, called i-Boxx's comes in two sizes and come with insert boxes and feature a transparent lid. The top portion of the LS-Boxx opens just like a regular L-Boxx and can house small tools such as cordless drills. The advantage of this new box is its ability to carry a tool in the top, and all the accessories needed in the tray's below. Sortimo talks about different tray options...
2 results - showing 1 - 2