Hot Deals
Chris February 23, 2012
0
0
Looking for a good deal on a router and dovetail jig to go along with it? For a limited time Rockler is offering a Porter-Cable 690LR fixed base router and a 4210 dovetail jig for the low price of only $199.98. This is a savings of about $50 if you were to purchase each one separately from Amazon. The 690LR features a 1-3/4 horsepower motor that spins at 27,500 RPM's and comes including collets for both 1/4-inch and 1/2-inch shank bits. The 4210 dovetail jig has a 12-inch board width capacity and can be...
Hot Deals
Chris February 21, 2012
0
0
I didn't notice this until now, but CPO Outlets held a 15% off sale yesterday in honor of Presidents Day. Good news is the sale doesn't end until tonight, so if you missed the sale yesterday, you still have a second chance. CPO sells new and reconditioned tools on their CPO brand sites, but unfortunately the sale is only good on New tools. Still 15% off is pretty good. There is no minimum and CPO offers a flat rate of $6.99 for shipping. Enter coupon code pres15 on any of the sites below to get your...
Hot Deals
Chris February 15, 2012
0
0
Ohio Power Tool is taking some of the deals they offer at The Wood Working Shows and is putting them online for all to take advantage of, and these deals are awesome. What they have is 20% off a few popular Bosch tools and the addition of free shipping. All four items are lower than what Amazon is offering. Take a look at the deals below, and be sure to use the correct coupon code for each product. PS31B – 12V Tool Only - $39 – Coupon Code: WW1 MRC23EVSK...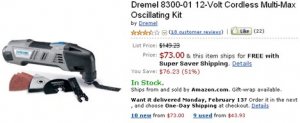 Hot Deals
Chris February 10, 2012
0
0
It is my opinion that if you are a professional carpenter, you should own both a corded and a cordless oscillation tool. The corded for when you need to do a lot of work, and a cordless for quick cuts and when you need to move around a lot. Unfortunately we cannot all afford to spend $300 to get both tools. Today only, Amazon has the cordless Dremel Multi-Max for only $73, and that is for a New kit. The kit includes a couple blades and a sanding pad to get you started, and also comes...
Hot Deals
Chris February 09, 2012
0
2
Looking to get a bargain on a 3/8-inch Lithium-ion Drill? Check out this clearance deal that Lowe's is running on the Bosch DDB180-02 Compact 18-volt drill kit. Regular price is $160. This kit includes two Bosch SlimPack batteries, a charger, a double-sided phillips bit, belt clip, and hard case. 400 in-lbs. of torque - enough torque to drive the most common fasteners and drill bits 7.6" head length and 3 lbs. weight - most compact and lightweight design available provides least amount of use fatigue Keyless chuck with auto-lock - for...
Hot Deals
Chris January 18, 2012
0
1
Ridgid's Trim router is a pretty good deal at around 100 bucks and the user reviews seem to back it up, but what if you could get an even better deal? Well of course this is a Hot Deal article, so a better deal does in fact exist. Home Depot is currently selling the Ridgid Trim Router for only $99, but it also includes a FREE bonus Ridgid 1/4-sheet sander; the sander alone sells for just under $50. The reviews on the sander do not seem to be as good as the reviews on the router, buy hey, you...
Hot Deals
Chris January 16, 2012
0
0
I always try to wait for a hot deal before I buy a tool and this is especially true if my purchase will be a power tool. Why not wait and save when you can? Now through January 31, 2012 Amazon has a few free battery deals on select Bosch cordless tools or combo sets, and with the price of batteries the way they are, these deals are well worth it. Also take notice that the free batteries are all the new HC batteries from Bosch. Deal 1: Free Slim Pack HC (1.5Ah) battery with purchase of...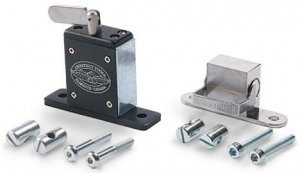 Hot Deals
Chris December 13, 2011
0
0
MagSwitch is the name we first associate switchable magnets and their use in jigs and fixtures, but it looks like Chestnut Tools want to give them a bit of competition. And what better way to kick things off then with a buy one get one free deal from Lee Valley?
Hot Deals
Chris November 10, 2011
0
0
The holidays are just around the corner and the sales have already started or will be starting soon, so I figured I better get a Black Friday and Christmas sale guide going now. Below are deals that stores are offering in alphabetical order by store. I will be updating this page as deals come and go, so be sure to check back. Update 11/23: Eagle America, Jet, Powermatic, Rockwell and Worx tool deals added.Update 11/17: Rockler Black Friday Ad added & Duluth offers added.Update 11/14: Duluth Trading sale extended. Details below.Update 11/11: Wood Werks...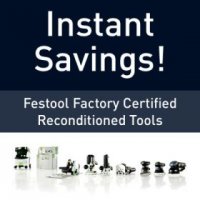 Hot Deals
Chris January 30, 2011
0
0
Festool rarely has sales, and never sells reconditioned tools; but that is all about to change next month. Starting in February, and it looks like only in February, Festool will be selling off their supply of reconditioned tools. Reconditioned tools will either have a 10% discount or 20% depending on the condition of the tool; but you should be happy to know that all tools have been inspected by Festool service technicians and meet Festool's standards. All tools will carry a one year limited warranty, and will be covered by a 30-day guarantee. Reconditioned tools include: ...