Hot Deals
Chris May 15, 2012
0
0
There are a few great deals on Bosch tools leading up to Fathers Day, but this one from Home Depot is a real sweet one. HomeDepot.com has the Bosch 18V Compact Lithium-ion Drill (DDB180-02) marked down from $148 down to $99 + F/S. And this is not just the tool, this is a complete kit with two batteries and a charger. If that was not good enough for you, this drill also qualifies for a Bosch mail-in rebate that will get you two additional 18V slim-pack batteries. So in total you get a Bosch 18V Compact...
Hot Deals
Chris May 14, 2012
0
0
Amazon is running another one of their famous $20 free gift cards deals on tools, and now through June 14th this deal is good on the Drill Doctor DD750X. This model is currently listed on Amazon for 123.99, so the free $20 gift card brings the price down to just under $104. This item also qualifies for Amazons Free Super Saver Shipping. If you have never used a Drill Doctor you have no idea what you are missing out on. You can take most of your twist drill bits and make them good as...
Hot Deals
Chris May 04, 2012
0
0
The competition surrounding oscillating tools is a view of capitalism as its best. Not only do we have more choices, but we are also getting better features at lower prices. Fein has been reducing their prices ever since, and deals are becoming more common. Now until June 1, 2012 Woodcraft is running a free $20 gift card deal with purchase of the Fein MultiMaster Q. This is the MultiMaster starter kit and also includes the tool-less blade change feature. The MultiMaster Q is currently selling for $199, so the $20 gift card brings...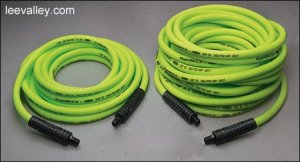 Hot Deals
Chris April 25, 2012
0
0
The Flexzilla air hose is the latest in super flexible all-weather pneumatic air hoses. The Flexzilla hose is advertised as being able to lay flat right after uncoil and remain flexible even when it has been completely frozen. For a limited time LeeValley has the 3/8" diameter air hoses at 25-foot and 50-foot lengths for only $18.50 and $29.95 respectively; this is a saving of between $10 and $20, depending on the store. This is a special offer from LeeValley and will only be available while supplies last. Flexzilla Air Hoses - LeeValley ...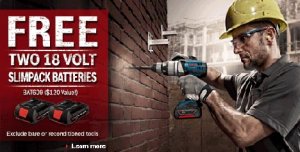 Hot Deals
Chris April 18, 2012
0
0
Now appears to be the best time to purchase a Bosch 18V cordless tool. Bosch has come out with a new promotion where you can get Two FREE SlimPack (BAT609) batteries if you purchase a new Bosch 18V Lithium-ion tool or the PowerBox 360 radio. The offer excludes bare tools and reconditioned tool purchases. This promotion runs from April 15 to June 16 2012. Free Battery Details Amazon is still running the promotion I posted a few days ago. Select Bosch 18V and 12V tools purchased from Amazon come with bonus free...
Hot Deals
Chris April 06, 2012
0
0
If you liked the Bosch ultra-compact drill Hot Deal we posted yesterday but want a Bosch drill with a quick connect chuck, then the PS21 is the drill for you. It is almost identical to the PS31 and features a 20 + 1 clutch, two speed transmission, and LED light. I did a review of this drill almost two years ago, so this model is a little old, but I still find myself using my PS21-2A all the time and it has plenty of power for its size. Bosch might have some updated models in the...
Hot Deals
Chris April 05, 2012
0
0
Lowe's seems to be clearing out a lot of Bosch tools lately. Every couple of weeks I am back with a new deal they are offering. Up for grabs this time is the Bosch PS31-2A 12V Max Ultra Compact 3/8" Cordless Drill. This is the ultra-compact drill version that features a real drill chuck, so there is no need to buy those special hex drill bits. Other features include a two-speed transmission, a 20 + 1 clutch, and an LED light. The PS31-2A has been marked down to $99 from $149 and there is no need...
Hot Deals
Chris March 15, 2012
0
0
Isn't Harbor Freight an amazing store? They have all of the small things that find myself needing and they are always at super low prices. Now, I never go into Harbor Freight expecting to get high quality tools that are anywhere close to contractor grade, but at their prices it is hard to complain about what you get. Harbor Freight is a good place to buy low-use tools. If you have a project that requires a mini grinder, but you don't plan on using it very much in the future, one of the Chinese brands will...
Hot Deals
Chris March 14, 2012
0
1
The first time I saw super small DeWalt DW745 table saw on the jobsite was the same day I was getting the Tool-Rank logo made up. I remember talking with the logo designer over the phone while watching a carpenter walk onto the jobsite with the saw in one had. That was a long time ago, but the DW745 table saw is still a hit among carpenters. I came across this deal that Lowe's is currently offering. They have the DW745 on clearance for only $319. Amazon pricing is currently just above $350. You can reserve...
Hot Deals
Chris March 07, 2012
0
0
If you are in the market for some entry level power tools that can help with your DIY needs, a discounted Porter-Cable 18V combo kit might be just what you need. The combo kit includes a 1/2-inch drill with a two position gear box, an impact driver for all your fastening needs, a flashlight, two 18V lithium-ion batteries, a 30 minute charger, and a soft carrying bag. In some locations Lowe's is selling the PCL318IDC-2 3-tool combo kit for as low as $71.60. You can order it online and pick it up at your local store,...