Hot Deals
Chris January 24, 2014
0
1
Amazon has a new lower sale price on the Porter-Cable 7312 Offset Base Laminate Trimmer. It was previously for sale at about $150 but has now been lowered to $125.77. As with all Amazon products its price could change at any time but usually it will stay the same for a couple of days.
Hot Deals
Chris January 21, 2014
0
1
If you do a quick search on the internet you will see that the DeWalt DW788 Scroll Saw is going for anywhere from $440 up to $499. So when I saw that Amazon had recently lowered their price to $399.20, I knew I had to share this deal with you.
Hot Deals
Chris January 17, 2014
0
1
I just spotted a new deal on Amazon where if you purchase a Bosch Heated Jacket, they will include a 12V Battery and Charger Free of charge. As far as I know Bosch doesn't sell their heated jackets as a kit that includes a battery and charger, so this is a great way for non-Bosch owners to get in on the warmth.
Hot Deals
Chris January 16, 2014
0
1
I am going to try something new and try to post more deals on smaller items that may not necessarily be tools, but might be tool accessories or jobsite related items. Hot deals on power tools are great, but it is also nice to score on some smaller items. For our first go we have a Plano 5231 Double Cover Stow N Go Organizer that is regularly priced at $15+ for the low price of $9.99.
Hot Deals
Chris January 15, 2014
0
1
If you are in the market for both a 12-inch miter saw and a miter saw stand, HomeDepot has quite the deal for you. For a limited time they have paired up the Ridgid MS1290LZA Sliding Compound Miter Saw w/ Laser and the AC9945 Miter Saw Utility Vehicle (MSUV) stand for only $499. The saw regularly sells for $499 and the MSUV normally sells for $199. A savings of $199 isn't bad.
Hot Deals
Chris November 18, 2013
0
1
Woot is running a special on the Porter-Cable PCC606LA 20V Max ½-Inch Cordless Drill-Driver Kit for the low price of $79.99 + shipping. The next lowest price I can find for it online is $99, but most stores are selling it for $109 or higher. The kit does include one 20V Max lithium-ion compact battery, a charger, and a double ended bit-tip. Features: 2-speed gear box. High and Low (0-400/0-1,600) ½-inch all metal ratcheting chuck Onboard battery fuel gauge Integrated LED work light ...
Hot Deals
Chris November 15, 2013
0
1
With Black Friday fast approaching not only is it a good time to be shopping for others, but it is also a great time to score some hot deals for yourself. To be sure you don't miss one of their hot deals when it comes around, Amazon has set up a website hub dedicated to Black Friday and the deals that can be had now, leading up, to and following the Dark Day Of Deals.
Hot Deals
Chris November 11, 2013
0
1
A Tool-Rank user sent in a tip about a price reduction on the Wiss 1-1/2-inch 3-piece Steel Aviation Snips set at Lowe's. The regular price on these was about $35, but they have now been reduced to $19.97, a savings of 43%. For comparison, HomeDepot has this same 3-piece set listed for $31.46. Quantities and availability may vary from location to lactation, but you also have the option to buy from Lowe's online. If your local HomeDepot carries this same set, you also have the option of using their price matching policy to get an additional 10%...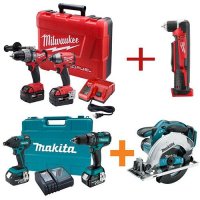 Hot Deals
Chris November 07, 2013
0
1
A reader sent in a tip about some sweet Free Bonus Tool promotions (with purchase of select Cordless Combo Kits) going on at HomeDepot. Initially we thought the promotion only applied to Makita and Milwaukee Tools, but it turns out there are DeWalt, Ridgid, Ryobi and Bosch deals as well.
Hot Deals
Chris October 28, 2013
0
1
The biggest shopping season is just around the corner and it is never too soon for the giant retailers to remind us all about it. In an effort to get the Black Friday hype of to a good start, Lowe's is giving us a sneak peek at some of the deals they will be offering the day after Thanksgiving.