Hot Deals
Chris   May 23, 2014  
0
1
If you are looking for a miter saw that is good for both DIY'er and Professional alike, you might want to check out this hot deal on the DeWalt DW716 12-Inch miter saw. Amazon has a new low price of $327.99 on the saw, and it is the lowest I have seen this saw for.
Hot Deals
Chris   May 20, 2014  
0
0
If you are subscribed to the HomeDepot PRO newsletter you are probably used to them sending you a lot a mail with hardly any value in them; but every once in a great while they have a coupon or sale in them that makes it all worth it. Yesterday's email was one of the rare gems, announcing an online sale on select Milwaukee Tools, Ridgid tools, Pnuematic compressors and nailers, and more. And this isn't just a regular sale, the saving on some of the items is big. An 18-Volt Milwaukee Hammer...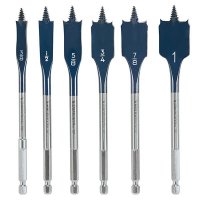 Hot Deals
Chris   April 21, 2014  
1
1
Amazon has one of my favorite drill bit sets on sale for less than $10, the Bosch 6-piece DareDevil spade bit set. Bosch's DareDevil spade bits were one of my first reviews back in 2008, and guess what, I still like them. They were even given the prestigious Tool-Rank Pick award, which has only been given out 10 other times.
Hot Deals
Chris   April 14, 2014  
0
1
Woot.com has a hot deal on a Proslat slatwall and 10-piece hook organization kit. The list price for this particular kit is $191.00, but it is on sale at Woot for only $124.99. For comparison, the slatwall alone sells for $160+ on Amazon, and you would still need to buy hooks for it.
Hot Deals
Chris   March 17, 2014  
0
1
If gardening is on your to-do list this spring, you might be interested in knowing that Lowe's has marked down some key tools that might make your projects go a little easier. For a limited time a Kobalt Shovel, Garden Rake, and Leaf Rake have been marked down 23-25%.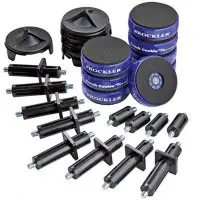 Hot Deals
Chris   March 03, 2014  
0
1
While Rockler's popular Bench Cookie Plus Master Kit normally sells for just under $64, it has come to my attention that it is currently on sale for only $39.99. The Plus Master kit not only includes a set of non-slip router cookies, but also a few different accessories that extend their versatility.
Hot Deals
Chris   February 13, 2014  
0
1
Good small parts organizers are surprisingly expensive, and since the last small parts organizer deal was so well liked, I thought I would share another one with you. Amazon has the Stack-On SB-18 on sale for only $5.88, a savings of about 50%.
Hot Deals
Chris   February 07, 2014  
0
1
Amazon has a new sale price on the Rockwell RK9002 JawHorse Sheetmaster. The Sheetmaster model is an upgraded version of the classic JawHorse that offers a larger clamping capacity of 49-inches, which allows it to clamp plywood and other sheet goods. The Rockwell Sheetmaster is typically priced at around $200, but the current Amazon price saves you about $25.
Hot Deals
Chris   January 31, 2014  
0
1
Continuing on my quest to post more hot deals on tools and accessories, today we have the DeWalt DW616PK Fixed Base & Plunge Base Router Kit for the low price of $159.20. This is $20 cheaper than Amazon's regular price and much lower than some competing stores.
Hot Deals
Chris   January 29, 2014  
0
1
A good precision screwdriver makes all the difference when working with small components. But if you want a good set, you usually have to pay good money for it. So it is a welcomed surprise to see a precision screwdriver set with high reviews on sale for less than $4.00.